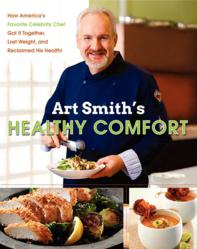 If you want to learn how to eat healthy, learn from a world class chef who has lost over a hundred pounds. Art Smith has walked the walk. - Mehmet Oz, M.D. Professor of Surgery, New York Presyterian, Columbia University
San Francisco, CA (PRWEB) May 02, 2013
Bestselling author, Top Chef Masters favorite, and award-winning chef Art Smith was discovering new innovations in the kitchen, including his beloved cuisine of the South, but neglecting to take care of himself. So he decided to make a change in the way he ate without giving up the foods he loved. By reinventing his favorite dishes and making exercise a regular part of his life, he lost 120 pounds and transformed both his body and his health. Art always knew that fine cooking is a way to show love to others—but now he saw it as a way to show love to yourself.
Art can't resist bringing people together through food. It's partly what made him the success he is today—and his unique reimagining of classic comfort dishes has added to his wide appeal. After ten years as Oprah Winfrey's personal chef, Smith now cooks at special events for celebrities all over the world. He has been a contributing editor to O, the Oprah Magazine and has made numerous television appearances, including on ABC's A Very Lady Gaga Thanksgiving, Bravo's Top Chef Masters, and ABC's Nightline.
There's no doubt about it: Art Smith's Healthy Comfort is about great cooking and good eating. But Smith also shares his personal journey to good health—including delectable dishes such as:

Buckwheat Pancakes with Peaches and Greek Yogurt
Shrimp and Avocado Ceviche
Watermelon and Feta with Lime and Serrano Chili Peppers
Eggplant Parmesan with Garlic Rapini
President Barack Obama's Favorite Glazed Salmon
Unfried Chicken with Roasted Brussels Sprouts
Grilled Hanger Steak with Slow-Roasted Tomatoes and Watercress
Nelson Mandela's Brown Basmati Rice with Spinach and Peas
Three Cheese Macaroni
Lemon-Yogurt Panna Cotta with Blueberries
Art Smith, who was Oprah Winfrey's personal chef, owns several restaurants across the country, including Table Fifty-Two, Art and Soul, Southern Art, LYFE Kitchen, and Joanne Trattoria. He was a favorite on seasons one and four of Bravo's Top Chef Masters, has appeared on the cover of Parade magazine, and has been featured in Cooking Light magazine. He is a regular contributor to StandUp magazine, the proceeds of which benefit the Ben Cohen StandUp Foundation, which raises awareness of the long-term, damaging effects of bullying. In 2003, he and Jesus Salguerio founded a nonprofit organization, Common Threads, which is America's foremost after-school hands-on cooking program for low-income children to learn to cook wholesome and affordable meals. Visit him at http://www.chefartsmith.net.