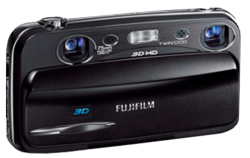 3D is not just for movies and television.
Portland, OR (PRWEB) May 02, 2013
The popularity of 3D is on the rise. But contrary to popular belief, 3D is not just for movies and television. Outlined below are the top 5 ways to incorporate 3D into a wedding.
1: Have the Wedding Filmed in 3D
Many professionals now know how to film in 3D. This can be used to film a wedding and then viewed on a 3D monitor or with 3D glasses.
2: Use a 3D Photographer to Capture In-Depth Pictures
A 3D photographer can take wedding photos that show in-depth action shots and smiles. The 3D pictures can then be viewed on 3D screens or printed with Snapily.
3: Create Custom 3D View-Master Style Reels as Wedding Favors
For a unique wedding favor, you can create custom View-Master style reels with Image3D. Create a reel with pictures of the bride and groom for guest to look at and enjoy.
4: Make a 3D Slideshow
Many weddings showcase a slideshow of the bride, groom and family. Now, add a unique 3D twist and imagine 100 wedding guests sitting around with 3D glasses watching a slideshow across the screen. At that rate, the same wedding could incorporate 3D programs too. 3D glasses could even be custom made with bride and grooms name.
5: Create a 3D Photo Album with the 3D Pictures
After using a 3D photographer, couples can turn their pictures into a 3D album with 3DWedding.
With popularity rising, the ideas for incorporating 3D into more than just movies is becoming a reality. 3D is a fun way to make your wedding unique.
About Image3D:
Established in 1997, by world renowned 3D photographer Rich Dubnow, Image3D provides custom View-Master style reels and viewers for everyone from blushing brides to corporate titans. Rich has more than two decades of experience as the lead photographer at View-Master and has produced work for creative visionaries like Jim Henson and Steven Spielberg. Today Image3D operates in a state-of-the-art facility in the picturesque Pacific Northwest, creating unique and awe inspiring 3D experiences for all. To learn more about Image3D visit http://www.Image3D.com