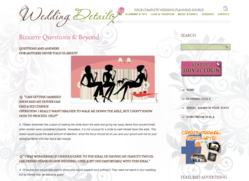 Since we launched in 1995 our experts have answered 1,000s of questions every year and we have spent a lot of time researching wedding traditions from around the world. (Michael Connors, founder of Wedding Details)
Traverse City, MI (PRWEB) May 07, 2013
Ask and browse wedding question ranging in culture and tradition. In an era of affluent changing times, wedding details offers the tools to get difficult questions answered by the experts. From bizarre to traditional questions, wedding details has the necessary resources to make brides and wedding planners life a little easier.
"Since we launched in 1995 our experts have answered 1,000s of questions every year and we have spent a lot of time researching wedding traditions from around the world. Some Couples want to add a little of the ethnic or religious background to their ceremony and/or understand their partners so we have tracked down a lot of fun and funny things! So don't get married without celebrating a little family cultural background!" (Michael Connors, founder of Wedding Details)
WeddingDetails.com offers an array of multi-cultural wedding planning information. Those in the need for fresh ideas or planning tips, wedding details has it covered. There are also extensive photo galleries of inspiration, easy-to-use wedding planning tools, advice columns and vendor search by area, tips tricks and inspirational bridal fashions and trends.
http://www.weddingdetails.com is one of the oldest and most reliable online wedding information sites in the United States. For almost 20 years, WeddingDetails.com has offered specialized information for brides and families looking for information about wedding traditions for all ethnicities. Local guides and bridal show listings are available coast-to-coast in over 60 markets, showcasing some of country's top wedding vendors who work right in the bride's backyard. Vendors are able to sign up for free listings and can upgrade to a premium listing for a nominal annual cost.
Liza Fillmore
Email: liza(at)wdweb.com
Phone:(231) 932-0855 ext. 22