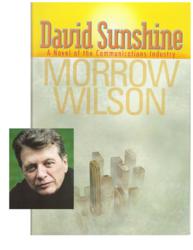 To young people then, the sky was the limit – or so we thought. And often that was true.
New York, NY (PRWEB) May 14, 2013
Morrow Wilson's just-published David Sunshine is a novel about the TV industry in the age of MAD MEN. It is funny; it is heart-breaking; it is encouraging. It tells the tale of an innocent young man who comes to the big city and goes to work for the most famous and highly-regarded TV producer/talk show host in the land, who proudly (if privately) boasts of being a successful con man. The book follows in the footsteps of Dickens and Mark Twain, whose best work is full to overflowing with colorful characters who either scare the hell out of you or make you laugh out loud. It is fact based – Morrow Wilson was there -- and it is dedicated to the memory of his late wife of twelve years, Rue McClanahan.
"People always say the past was a simpler time," reflects Morrow Wilson. "That's hard to prove. But the 1960s was definitely a more open time. There were all kinds of new industries and opportunities for social mobility and success. I'm not saying it wasn't tough to make your way – ours is a very competitive society -- but people were more gracious, more considerate and a hell of a lot more stylish. There were grave injustices, of course, and we've made a lot more social progress today. But I don't think we suffered from all the fears that plague us now.
"To young people then, the sky was the limit – or so we thought. And often that was true."
Morrow Wilson does not consider himself a nostalgic person. "I think writers, artists and intuitive people always live in the future," he says, "not the past. But, just glancing back, you cannot deny the economic boom of the 1960s, when school teachers vacationed in Europe every summer, when a good bottle of French wine was three dollars, when quality clothes were affordable and when the cost of a theatre ticket was so low that people could afford to see a Broadway show they liked half a dozen times."
"JFK and Jackie, women in white gloves, men in suits, three-martini lunches in mid-town restaurants." Morrow Wilson shakes his head and smiles. "If those weren't the good old days for everyone, they sure were for a lot of people. It was a cool time."
regaleaglesnest(at)live(dot)com