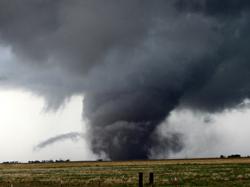 "It is not the content of what is known that is the critical factor, but the process by which these things came to be known." Dr Marshall Duke
(PRWEB) May 30, 2013
AncestorEbooks is a website business based at the edge of 'the wind-swept prairie called Tornado Alley' and just 25 miles north of Joplin Missouri which was hit by an EF5 multiple-vortex tornado on May 22, 2011, [accuweather.com/en/weather-news/wild-weather-leaves-trail-of-d/49984] putting Missouri into the 'Ten deadliest tornadoes' chart for the third time.
Although the National Weather Service [weather.gov/] sends out alerts and warning emails to schools there is only an average of 30 minutes to prepare, Oklahoma schools prepare ahead of time to keep children safe, however as in the case of Moore, OK sometimes preparation isn't enough.
This is why AncestorEbooks is talking about the new book by Bruce Feiler, Secrets of Happy Families. [amzn.to/111hzkg] This new book uses new techniques and approaches from 'experts in the disciplines of science, business, sports, and the military' to create a "playbook" for families.
According to a study by Marshall Duke, a professor at Emory University, children with disabilities who knew family stories did better than students who did not know any family history. [huff.to/ZlE59d] It is the process of how children learn this information that is vital. 
Dr. Duke wrote in his blog, "Just coming from a family in which the opportunities to learn family history and to create a family narrative are regular, multiple, predictable and inviolable." Families need to talk, and they need to talk a lot. Dr. Duke continued explaining about how family stories are shared with children, "More often than not they are told in order to teach a lesson or help with a physical or emotional hurt. As such, they may be modified as needed. The accuracy of the stories is not really critical."
Soon after the original study, the nation was affected by the terrorist attacks on September 11, 2001 Dr. Duke and his associate Robyn Fivush, evaluated the same children as the above study, and discovered again that those children who knew family stories, had overcome the trauma better than the other children.  Psychologists theorize it is the feeling of being part of a larger family that helps their resiliency. [nyti.ms/155lGMz]
Mr. Feiler writes in his New York Times Article, "The military has also found that teaching recruits about the history of their service increases their camaraderie and ability to bond more closely with their units."
Commander Smith, chairman of the department of leadership, ethics and law at the Naval Academy encourages Seniors to take incoming freshman on "history-building exercises, like going to the cemetery or to pay tribute to the first naval aviator, or visiting the original B-1 aircraft on display on campus." [nyti.ms/155lGMz]
Dr. Duke encourages parents to begin their own family traditions or continue old family traditions.  The sillier or more outrageous a tradition, the more likely it is that the tradition will be passed to the next generation.  He said, "These traditions become part of your family."
Effective communication in families is not just talking about problems, questions, and concerns, it is about talking in general. [nyti.ms/155lGMz] Communicating within the family unit has countless social benefits. 
Children who have a family that communicates well will have higher self-esteem and be able to express their thoughts, feelings, and opinions in an open and honest manner.  A study by University of Delaware hypothesized this is due to children having their feelings recognized and validated by their family. [bit.ly/Zb1Uyr]
Finally, effective communication in families, will teach children listening skills.  They will learn to listen, without judgment, and empathize with others. These skills will be monumental in future endeavors. [bit.ly/11t8faA]
AncestorEbooks encourages families to talk and record family events for use in their Family History Ebooks, "The more outrageous the better!" states Cristina Besendorfer, owner of the company. "These are the happenings that create lasting memories."
Gayla Mendenhall of AncestorEbooks says, "Sit down and have a family meal.  Tell your kids stories about family members, their trials and successes. Listen to kids tell stories. Plan silly traditions that they will be excited about sharing with their children. Family time is truly the source of happiness."