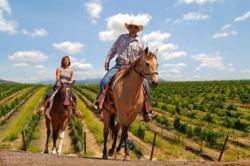 Horse-friendly stays are ideal midweek: equestrian-outfitters and guides are less-busy; trails are less-crowded.
Temecula, CA (PRWEB) May 07, 2013
"For visiting horse-owners to aspiring equestrians seeking horses provided, Temecula Valley Southern California Wine Country is horse-friendly with guided rides, picturesque trails, equestrian events, and popular dining, dancing, and accommodations," shares Kimberly Adams, Temecula Valley Convention & Visitors Bureau president and CEO. "Horse-friendly stays are ideal midweek: equestrian-outfitters and guides are less-busy; trails are less-crowded. Midweek stays also mean appealing, Sunday-through-Thursday (better-than-weekend), hotel-resort nightly room- and group-rates." Located 1-hour from San Diego, Orange County, and Palm Desert; and 1½ hours from Los Angeles, the popular destination includes Downtown Old Town Temecula, Temecula Valley Southern California Wine Country, and Pechanga Resort & Casino.
1-Gaits In the Grapes Guided Trail Rides
For horse-owners, Gaits In the Grapes (GIG) guides rides to Temecula Valley Wine Country's private vineyards, and trails network. GIG-guides attend horses while visitors enjoy winery tours, wine tasting, dining in winery-restaurants. GIG is also resource for overnight, horse-boarding suggestions.
2-Saddle Up Wine Tours on Horseback
Saddle Up Wine Tours provides horses and guides for Historical Wine Tours. Guests ride alongside De Portola Wine Trail, learn wine-country anecdotes, taste at wineries like Oak Mountain, Keyways, Robert Renzoni. Saddle Up also offers basic trail-rides daily.
3-Horse Drawn Carriage Rides through The Vineyards
Temecula Carriage Company offers Temecula Valley wine tasting tours. Horse-drawn carriages travel through the vineyards visiting wineries like Leoness, Wilson Creek, Lorimar, Ponte. Guests also enjoy a gourmet picnic.
4-Equestrian Trails at the Santa Rosa Plateau Ecological Reserve
Once part of Vail cattle ranch, the 8,300-acre Santa Rosa Plateau Ecological Reserve offers horse-owners 7 miles of multi-use trails amid rolling hills, oak woodlands, chaparral. Sylvan Meadows has picnic tables under-the-oaks (picnic-fare: Campini's; E.A.T. Marketplace).
5-Equestrian Events at Galway Downs Equestrian Center
The 240-acre Galway Downs hosts shows like International Horse Trials with gourmet food, music, and as-many-as-100 riders galloping horses over cross-country jumps. Galway Downs also hosts dressage; is home to Temecula Valley Polo Club (at charity events, attendees witness polo at catered luncheons).
6-Steakhouse Dining in Old Town Temecula and Uptown Temecula
Atmosphere at Old Town's Gambling Cowboy and Texas Lil's Mesquite Grill recalls Old West glory days of cattlemen, ranchers, and cowboys. Gambling Cowboy features elegant, late-19th century setting; prime steaks, fine seafood. Original ranch-style steakhouse Texas Lil's menu includes Angus choice rib-eye steaks.
North of Old Town in Uptown Temecula within Temecula Hotel Row is innovative Vail Ranch Steakhouse. With the specialty of dry-aged prime steaks, an on-site dry-age process enhances steaks' tenderness, moisture, and flavor. The dry aged Angus beef includes New York strip and rib eye.
7-Get Country Western at Temecula Stampede
Temecula Stampede is Old Town Temecula's expansive country-western dancehall. The popular outpost features music, dancing, and bull riding for equestrian enthusiasts.
8-Horseback Trail Rides and Wine Trail Rides at Vail Lake
With a ranch-like setting, ancient oaks, and California chaparral, Vail Lake was the eastern boundary of Temecula Valley's historic Vail Cattle Ranch; the Vail Ranch spanned to the west as far as the Santa Rosa Plateau. Guided horseback trail rides are offered on-site at the 9,000-acre Vail Lake property. The property is just southeast of welcoming and gracious Temecula Valley Wine Country so also offered are Wine Trail Rides that combine lake-view riding with a De Portola Winery canyon ride an award-winning winery. Also to inquire about are moonlight rides.
9-Temecula Equestrians in the 4th of July Parade in Old Town Temecula
With westerly chaparral-covered hills as backdrop, the Star-Spangled 4th of July Parade along Old Town Front Street is a festive, annual tradition. Entries include patriotic, red-white-and-blue accessorized, horses and riders.
10-Supplies for Visiting Horse Owners in Temecula
A burgeoning equestrian area, Temecula Valley is horse-friendly with supplies for horse-owners. Dan's Feed & Seed (Old Town Temecula) carries feed, tack, western wear. Big Horse Feed & Mercantile (near Wine Country) sells feed, tack, apparel.
*Information is believed accurate but may be subject to change.
ABOUT TEMECULA VALLEY AND THE TEMECULA VALLEY CONVENTION & VISITORS BUREAU
With natural gifts of climate and geography bolstered by Pu'eska Mountain, the Rainbow Gap, and the Santa Margarita Gap, Temecula Valley is most widely recognized for its quality wines and wineries as Temecula Valley Southern California Wine Country. The popular boutique destination recently received TripAdvisors' Travelers Choice "Best U.S. Wine Destination Top 10" award and includes a trio of main attractions: Downtown Old Town Temecula, Temecula Valley Southern California Wine Country, and Pechanga Resort & Casino.
The Temecula Valley Convention & Visitors Bureau, official tourism marketing organization and resource for visitors is online at VisitTemecula.org; Facebook, "Temecula Valley Southern California Wine Country"; Twitter, @Visit_Temecula. Temecula Valley Visitors Center in Downtown Old Town Temecula (Third Street and Mercedes, adjacent free Old Town Parking Garage) is open 7 days. For visitor information and assistance, call 888/363-2852, 951/491-6085.