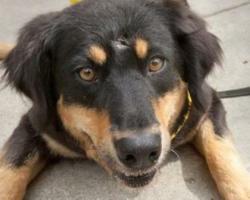 Muskego, WI / Milwaukee, WI (PRWEB) May 14, 2013
At the end of April 2012, ambitious pet owner, Joal Derse Dauer, went to an animal shelter to donate blankets when she caught a glimpse of a dog as she was walking out. She asked a volunteer what the injured, malnourished dog with the beaming eyes' story was, and they told her that "Sadie", who had just been brought up from Kentucky, was found in the mountains where, after having a litter of puppies, she was shot between the eyes and in the back and left for dead.
After a series of unknown events, she wound up in the no-kill animal shelter in Wisconsin to live out her life most likely destined for euthanasia or at the very least, a low quality of life in a caged environment since she had difficulty mobilizing her two hind legs from her injuries. But that very day, Joal scooped her up and took her to a few doctors for a prognosis.
Sadie was urinary incontinent, fecal incontinent and paralyzed. She was advised to do the kind thing, but Joal saw life Sadie's beaming eyes and was determined to give her a second chance. The next day, Joal took Sadie to see a natural holistic doctor in Muskego WI, who said that they should give Sadie a chance, and so they did.
Sadie had the bullet removed from between her eyes on June 4th along with a cyst from her tail. The bullet and shrapnel in her back are too deeply embedded to remove.
After recuperating for a few weeks from surgery, Sadie's rehabilitation started in earnest. Sadie receives daily exercises as well as the following therapies to save her two hind legs from amputation;

Acupuncture
Aqua puncture
Adequon injections
Air splints
Laser treatments
Chiropractic adjustments
Hydro treadmill
Hako Med pool
Vitamin supplements
Specialized diet to build muscles
Private physical therapy
Pet massage
Reiki sessions
E Stim machine treatments
All of this extensive therapy and rehabilitation contributes to teaching Sadie how to walk again.
Her treatments are ongoing and her prognosis is "unknown", although she continues to make progress every day. She is no longer urinary or fecal incontinent, and as of 4 weeks ago is moving her hind legs, thanks to her new air splints, which are like very large Water Wings for children. They fit from her ankles to the tops of her legs and are inflated by mouth once they are on. One person stabilizes Sadie from the back, and the other person is the designated Food Temptor!
Sadie is a very happy, healthy dog who shows no evidence of remembering her past. People who meet her fall deeply in love with her instantly. She has supporters from all across the United States and from 11 other countries.
What does rehabilitation cost for Sadie?

$23 buys one week's supply of Special Enriched food for Sadie
$27 for one swimming therapy session (4x/week)
$40 for one laser treatment for pain
$40 for acupuncture session
$70 for each chiropractic adjustment
$140 for weekly physical therapy
$150 per month for supplements
On Wednesday, June 12, 2013, Joal is being a guest bartender at Rustico Pizzeria in Downtown Milwaukee, 6-9pm to raise funds to support the ongoing therapies as well as acquire new therapies, including stem cell therapy, infrared laser and air splints.
Joal regularly schedules "Meet and Greet" events at a local pet store for folks to meet Sadie, hear her story, raise awareness about animal cruelty, and offer donations. You can find out when these events will occur by going to her website at http://www.savingsadie.com.
About Joal Derse Dauer:
Joal has been helping people put order back in all areas of their lives for over 15 years. She treats every client (and animal) like they are part of her family and she prides herself on the fact that if she can't help, she knows someone who can. Before acquiring Sadie, she always went to animal shelters and Goodwill weekly, if not daily, to drop off goods for their cause and continues to donate to this day.
Joal is a woman who will look everywhere and anywhere to help Sadie. She goes out of her way to look for treatments, even ones that she is unfamiliar with or have not been heard of yet. After a year of treatments, Joal recognizes there is still more to do for Sadie and is open to suggestions.
Contact:
Joal Derse Dauer
414-815-6088
847-370-0981
Email: info(at)luxehomesmanagement(dot)com