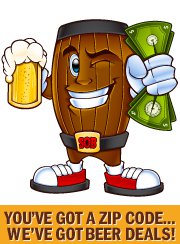 We like to think of SaveOnBrew as being the consumers best beer buddy, helping him or her save a few bucks in these tough times.
Houston, TX (PRWEB) May 06, 2013
SaveOnBrew.Com, the world's only beer price-search engine, claims that consumers using its new mobile apps can save significantly on their beer purchases.
"People love a deal," says Mark Davidson, site founder. "The fact is, advertised beer deals represent about a 25% discount off of every-day prices so comparison shopping for beer is a smart move."
According to a recent CBS news report, Americans consume more than 6 billion gallons of beer every year. "Beer is still the number one choice of adult beverages," says Davidson. "It's really an integral part of our culture, from sporting events to family outings to a cold one after taking care of the yard on a hot summer day."
The applications, available for both Apple's iPhone and Google devices, searches for advertised beer deals based on the users location or a provided zip code.
"We've been doing this for quite a while now, so we're pretty good at keeping our data channels full. At any given time, there are between 250- and 300,000 beer deals live in our database," says Davidson. "We like to say, 'if it's advertised, we've got it' and over the past three years, we've published more than 35 million deals."
Other features of the mobile application include a multitude of sort features and the availability to save favorite beers and then quickly see when the favorites are on sale.
"It's really simple. Our product isn't complicated. We like to think of it as being the consumers' best beer buddy, helping him or her save a few bucks in these tough times," Davidson explained.
Searches in major metropolitan areas resulted in quite a few deals shown. Within five miles of 10101 (New York City) there were more than 350 deals. Smaller markets, such as Tulsa, showed about fifty deals.
"Your mileage may definitely vary," says Davidson. "Remember, we show advertised beer deals, not all beer deals. Though we invite retailers not currently listed in our results to contact us to get their deals published and into the hands of thirsty consumers."
The application is free and can be downloaded from the iTunes App Store or Google Play market place. Retailers can contact SaveOnBrew via their web site.
# # #
About SaveOnBrew.Com: Founded in 2010 to help thirsty beer drinkers across the United States find the lowest advertised prices for one of the world's most popular beverages.