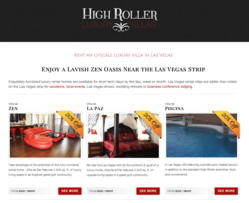 We enjoyed our recent stay and will pass the info on to friends and co-workers...truly a one of a kind experience and very affordable...thank you for making our vacation so memorable --Rossi
Henderson, NV (PRWEB) May 28, 2013
Established to fill a gap in the vacation rental market, High Roller Luxury Vegas Villas provides vacationers close proximity to The Las Vegas Strip coupled with scenic tranquillity and ample space. All homes feature 55" flat screen TVs, and several have pools and large offices which are ideal for both working and winding down after attending conferences or events. Families will love the community's playgrounds, featuring new basketball courts, tennis courts, and an impeccable golf course.
An upscale Vegas vacation rental home is a click away at: High Roller Vegas Villas
High Roller Vegas Villas, Inc. is the brainchild of Arleen and Ted Taveras, CEO and COO of Insurance Licensing Services of America, Inc. In the last 15 years, while managing their insurance licensing business they traveled around the world renting affordable luxury vacation homes. These homes are a direct response to the needs they saw in the marketplace.