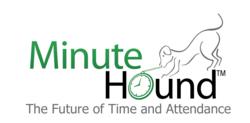 With this new release, managing multiple locations and hourly employees is a dream come true.
New York, NY (PRWEB) May 14, 2013
Big and small, local and international, businesses with hourly employees are starting to feel the immense power of MinuteHound in their day-to-day happenings. Whether it's for a small local business with a handful of employees or a huge company with scores of individuals covering different shifts, MinuteHound's cutting edge technology helps to make operations run more smoothly and efficiently.
Keeping track of hourly employees in the old days meant performing tons of calculations and tedious activities. Now, MinuteHound allows employees to clock in and out with ease by using a USB time clock. This system does not need a dedicated computer, so any device can be employed for record-keeping purposes. Furthermore, the company caters to businesses of all sizes, ensuring that all employees are able to utilize this top-notch technology.
MinuteHound also provides an excellent solution to businesses with hourly employees because it helps managers and owners to keep track of the entire workforce. When everyone settles down for a 9-5 workday, it's not as difficult to determine who is absent and who is present. However, with employees scuttling in and out throughout the day, the role of the oversee becomes much more difficult. Fortunately, MinuteHound is so incredibly advanced that managers or other specified parties can receive a text message or e-mail if an employee arrives late or leaves early for a scheduled shift.
With people coming and going on a regular basis, it's also easy for timecards or other timekeeping tools to get lost in the shuffle. Cards and sheets might be stuffed away in drawers never to be found again. MinuteHound helps to break down this barrier and create a system that is so simple of which to keep track. All of the information is stored in a central location, and owners can view clear and accurate charts of the hours worked by their employees.
MinuteHound is simple to use for other reasons as well. The setup is quite self-explanatory, and the plug and play system allows anyone to use it. Instead of wasting so much time setting up a system, everyone can immediately get to work and aim for productivity goals of the day. Even if a problem does occur, MinuteHound offers support at all hours.
This system is crafted by professionals who understand the struggles associated with timekeeping in the workplace. Not only does MinuteHound seek to be a formidable confidante to all different types of businesses, it also hopes to create a better environment for both the employees, the upper management and everyone who is in between.
MinuteHound Contact Information
Website: http://www.MinuteHound.com
Email: info(at)MinuteHound(dot)com
Phone: (800) 351-7237