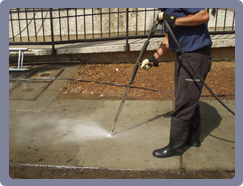 Its gutter cleaning uses a vacuum mounted in its trucks and is the only system of its kind in North America
Vancouver, BC (PRWEB) May 06, 2013
Troy Thompson, who is also president of North Shore Home Services Ltd., recently announced his purchase of AcroTechCSI in February.
Thompson has been a serial entrepreneur since the age of 14 when he ran a lawn-cutting business with five employees and then subcontracted work digging holes for fence posts to his contemporaries. It therefore comes as no surprise that, as an adult, Thompson has gathered a small portfolio of contracting, renovation and exterior maintenance companies in the Lower Mainland. He is a seasoned sales and marketing professional who excels at developing marketing
and business plans, generating leads and accelerating revenue within limited marketing budgets.
AcroTech provides the perfect complement to Thompson's other businesses, North Shore Home Services Ltd., North Shore Gutters Ltd. and Edgemont Exteriors Ltd. AcroTech is renowned for its superior customer service in an industry where this is often difficult to find - customer satisfaction is its major focus. AcroTech's high standards of service clearly pay dividends as referrals and repeat customers now provide the majority of its business.
AcroTech offers environmentally friendly exterior maintenance services utilizing state-of-the-art technology. Only environmentally friendly products are used for pressure washing - the fastest way to give any building's exterior a facelift. For window cleaning, AcroTech uses Tucker poles and de-ionized water technology, ensuring sparkling windows every time. Its gutter cleaning uses a vacuum mounted in its trucks and is the only system of its kind in North America that is
guaranteed to remove all leaves and muck from gutters.
For more information on AcroTech's services visit http://www.acrotechcsi.com.