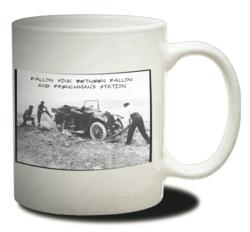 "June will certainly be a month to remember in Nevada's Pony Express Territory"
Pony Express Territory, Nevada (PRWEB) May 14, 2013
Long before the Internet, the Lincoln Highway began connecting us 100 years ago when it became America's first paved coast-to-coast road for the automobile paralleling many parts of the Pony Express route. Nevada's section of Lincoln Highway is Hwy 50 running east to west through the heart of the State known as America's Loneliest Road in Nevada's Pony Express Territory. To celebrate the 100th anniversary of Lincoln Highway, the communities along Nevada's historic Hwy 50 will be rewarding travelers with complimentary commemorative coffee mugs (while supplies last) during the month of June.
"Each of our six historic towns and one national park visitor's center will offer a special commemorative coffee mug toward a collectible set," said Nevada's Pony Express Territory President, Rick Gray. This area of Nevada is where the Pony Express riders once galloped along its main trail (now Hwy 50) through Dayton, Fallon, Fernley, Austin, Eureka, Ely and Great Basin National Park. "Each coffee mug will feature an iconic photo of that town specific to Lincoln Highway," continued Gray.
The Lincoln Highway Association has set two official tours to start June 22 in San Francisco and New York. The West tour route from San Francisco will come through Nevada's Pony Express Territory on Hwy 50 to Fallon overnight on June 24 with a second overnight in Ely on June 25. "We look forward to sharing an important cultural heritage experience with travelers," said Gray. The communities of Fallon, Austin, Eureka and Ely are busy planning tour dedication events with more details to be announced. Watch this short clip with current footage from Nevada's Pony Express Territory.
The 100-year-old Lincoln Highway passes across an estimated 14 states, 128 counties, and 700 communities to total approximately 5,869 miles. It's America's first national memorial to President Abraham Lincoln, predating the 1922 dedication of the Lincoln Memorial in Washington, D.C. by nine years. At the 25th anniversary, road founder Carl Fisher said, "I hope this anniversary observance makes millions of people realize how vital roads are to our national welfare, to economic programs, and to our national defense." Famous supporters who helped fund Lincoln Highway include Theodore Roosevelt and Thomas Edison, both friends of Fisher. Various authors and artists including Emily Post have traveled Lincoln Highway.
The adventurous towns along America's Loneliest Road will host events and festivities in addition to offering a complimentary commemorative mug to celebrate Lincoln Highway's 100 years. Hurry while supplies last and collect all 7 of the coffee mugs to complete your Nevada Lincoln Hwy experience. For updates and more information, visit Pony Express Nevada "June will certainly be a month to remember in Nevada's Pony Express Territory," continued Gray.
###
NEVADA'S PONY EXPRESS TERRITORY encompasses 17 million acres and 1,840 miles of wide-open space, rich cultural heritage, rugged undisturbed nature and black night skies. The Territory is where the Pony Express riders once galloped along its main trail, now Highway 50 with the six adventurous friendly towns of Dayton, Fallon, Fernley, Austin, Eureka, Ely and one national park, Great Basin. In 1986, Life Magazine designated Nevada State Highway 50 – "America's Loneliest Road." Visit http://www.PonyExpressNevada.com or call 1-888-359-9449. Follow Nevada Pony Express on social media here:
https://www.facebook.com/ponyexpressnevada?ref=hl
https://twitter.com/PonyExpressNV
http://pinterest.com/ponyexpressnv/
http://www.stumbleupon.com/stumbler/ponyexpressNV