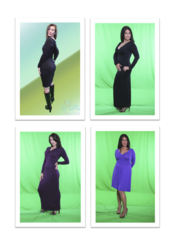 For the fashion forward woman!
Orlando, FL (PRWEB) May 01, 2013
Actor/writer/director, Kenny Rogers is endorsing his wife's new clothing line, U ARe! Fashions. The designs are being promoted as effortless beauty and endorsed as the next evolution in fashion. This clothing line is taking beauty, style and comfort to the next level.
U ARe! Fashions dresses are chic, versatile and designed to fit beautifully on every shape and size, for women who don't just want versatility and comfort but who want beauty and quality too! Whether a size 2 or 20, there is a flattering dress style!
Designer, Anissa Rogers recently resigned from her full-time employment of 13 years to focus exclusively on the line's expansion. Talk about a leap of faith!
Click to learn more about U ARe! Fashions.
Contact:
Anissa Rogers
Email: Uarefashions(at)outlook(dot)com
Phone: (863) 969-9505
Website: http://www.kickstarter.com/projects/517264454/kenny-rogers-films-odd-ducks-and-wife-launches-fas