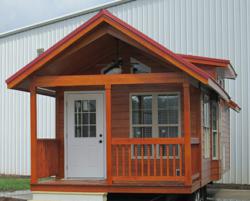 Chandler, AZ (PRWEB) May 13, 2013
Factory Expo Home Centers is pleased to announce the grand opening of their newest Park Model Home Sales Center, located in Salisbury, North Carolina at 220 Ryan Patrick Drive. Visitors to the new Sales Center will be able to view a wide selection of park model homes for sale and will also have the option of taking a guided factory tour showing how the homes are built.
Customers can also visit the Salisbury location's website at http://www.ParkModelsDirect.com/SB, where they can view floor plans, photographs, customer testimonials, sale promotions, industry news and much more.
The Park Model Homes sold at Factory Expo Home's new factory direct Sales Center are built on site at the factory in Salisbury, North Carolina. Considered true industry professionals, highly skilled factory craftsmen build homes with an exceedingly high level of expertise for all customers. All of these homes meet, and in many cases, exceed ANSI 119.5 building code, which is administered and sanctioned by the RVIA (Recreational Vehicle Industry Association). This code is optional for park model homes, and requires that park model homes meet or exceed more than 500 building and safety standards. Factory Expo Homes is proud to offer park model homes with the RVIA inspection label.
About Factory Expo Homes: Factory Expo Home Centers was founded in 1999 and specializes in all aspects of the park model home, mobile home and manufactured home industries. Based in Chandler, Arizona, and serving the entire contiguous United States, Factory Expo Home Centers operates Sales Centers in Arizona, Texas, Oregon, Nebraska, Virginia, Indiana, Florida and North Carolina and is the nation's largest factory located Manufactured Home retailer. Product offerings include Park Model Homes, Mobile Homes, and Manufactured Homes. Visit FactoryExpoHomes.com for more information.