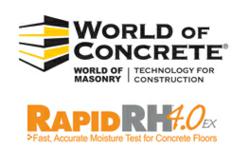 . "There are many innovations and new products being developed for the concrete industry," says Ed Wagner, president and CEO of Wagner Meters. "And we're excited to see the DataMaster™ included among the best of 2013."
Rogue River, OR (PRWEB) May 02, 2013
Wagner Meters' recent participation at the World of Concrete (WOC) 2013 Concrete and Masonry event included a number of events experiences, and was highlighted as they introduced by the introduction of the new Rapid RH® DataMaster™, a compact, handheld device that combines Bluetooth® technology with touchscreen capabilities to protect RH Relative Humidity testing data integrity.
"The conference attendance this year seemed higher," says Jason Spangler, Rapid RH® Sales Manager for Wagner Meters, "and people were eager to learn about new products and tools for the concrete industry, including the MIP Most-Innovative-Product-nominated DataMaster™. The feedback from on the DataMaster™ was very positive," Spangler observed, "and the live demonstrations were well-received." Wagner Meters' new DataMaster™ was developed in conjunction with the website http://www.f2170reports.com to facilitate F2170 reporting and increase compliancy assurance for flooring installers and concrete professionals by protecting data integrity for each job site.
Along with participating in a variety of events at WOC, Wagner Meters sponsored the Concrete Construction's Quality in Concrete Slabs Luncheon & Forum for flooring and industry professionals. "Participation was great," confirms Spangler. "The Q&As back and forth and the level of interaction with the speakers was very well-received." Conclusions from the forum will eventually be shared on the Concrete Construction website for those not able to attend.
Proud of the latest addition to the Rapid RH® line-up of concrete moisture tools, Wagner Meters is anticipating the final results of the Most Innovative Product voting. "There are many innovations and new products being developed for the concrete industry," says Ed Wagner, president and CEO of Wagner Meters. "And we're excited to see the DataMaster™ included among the best of 2013."
To learn more about Wagner Meters' complete line of concrete and RH testing products, visit http://www.rapidrh.com, or contact us for more information.
About Wagner Meters
For over 40 years, Wagner Electronics has been recognized as the world leader in providing advanced moisture measurement and management solutions to the construction industry. We offer a variety of meters designed to measure pH and relative humidity for concrete installations. Learn more about Wagner Meters at http://www.WagnerMeters.com or connect on Facebook or Twitter.