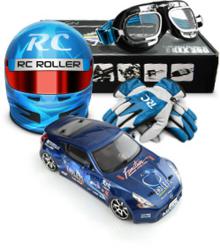 Awaken your instinct of pilot/racer
(PRWEB) May 12, 2013
Why choose RC as a hobby?
RC vehicles are not just toys for kids, although many non-enthusiasts see them that way. Professional RC models are all about 3D-performance and the enormous opportunities for modeling.
About RC Roller
RCRoller.Com is a retail online store specializing in the sale of RC drift cars, kits for RC helicopters, and accessories and spare parts manufactured by MST and Align. The RC Roller team also has ambitions to develop a friendly community for people who are fond of controlling and modeling RC vehicles.
Like most specialized stores, RCRoller.Com hobby store offers unlimited opportunities for RC enthusiasts. Unlike most RC stores, RCRoller.Com also offers exclusive content, interesting articles, recommendations for beginners, and a fast-growing community where everyone is able to share his/her projects, and ideas, and the joys of the RC experience.
How to contact RC Roller
Visit http://www.rcroller.com to get more information about the RC Roller community and to explore the assortment of products available in the online shop.