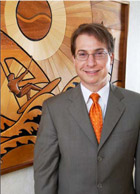 It is never too early or too late to look your best.
Plano, TX (PRWEB) May 03, 2013
"I think it is important for women to take a proactive approach to their health care," says Dr. Ronald M. Friedman, a board certified plastic surgeon in Plano, Texas. "It is never too early or too late to look your best."
Dr. Friedman is set to be the lead speaker at "Ladies Night Out," a free seminar hosted by the Texas Center for Diagnostics & Surgery. The speakers will cover a variety of health and beauty topics, such as minimally invasive cosmetic procedures, nutrition for athletic performance, and how to achieve a more youthful appearance through proper skin care.
In his 18th year of practice, Dr. Friedman is "always excited to share his insights with the Plano community." The topic he is planning to cover is: "Looking Natural - Minimally Invasive Techniques to Enhance Beauty." This will encompass details about maintenance treatments designed to reduce and sometimes reverse the effects of facial aging.
Dr. Friedman's points of discussion will include:

Injectible neurotoxins: Botox® and Dysport®
Injectible fillers: Restylane®, Juvederm®, and Perlane®
Latisse®: medication to grow longer eyelashes
Earlobe repair and earlobe reduction
Liposuction of the neck
Future technologies: VOLUMA® (an alternative to Sculptra® and Radiesse®)
Voted one of the top plastic surgeons in the Dallas area by D Magazine, Texas Monthly, and Castle-Connelly, Dr. Friedman personally performs all injectible procedures at both his Plano and Flower Mound locations. He serves as the director of the West Plano Plastic Surgery Center, a nationally accredited surgery center located on the campus of Texas Health Presbyterian Hospital of Plano. Dr. Friedman is also proud to offer effective topical anesthetics and laughing gas for minimally invasive treatments at no additional charge.
The free Ladies Night Out seminar will take place at Neiman Marcus, located on the third floor of the Willow Bend Mall, from 6 p.m. to 8 p.m. Reservations can be made by calling (972) 403-2792 or sending an email to seminars(at)thcds(dot)com.
To learn more about Dr. Friedman and the West Plano Plastic Surgery Center, please visit http://www.plasticsurgerydallas.com/about-dr-friedman.php.