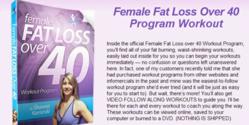 Offering this program as a downloadable item only really helps reach women across the country.
San Diego, California (PRWEB) May 01, 2013
Shawna Kaminiski recently released her "Female Fat Loss Over 40 Program." The program caters to women over forty years old by offering age-specific weight loss techniques. The program is now available as an exclusive download to people nationwide with no waiting for a hard copy to be delivered. In addition, Kaminski just released video follow along workouts for this program at the same price point. Women can now print out the workouts OR follow along in real time! Either program can be ordered using any major credit card or via PayPal. More information is available here: http://www.femalefatlossoverforty.com/
"Female Fat-Loss Over 40" will give women a flat belly, toned arms and tight, firm thighs using my secret methods to burning fat those over forty years of age," said Shawna Kaminksi. "I stand behind my product. If someone isn't completely satisfied, they will get all of their money back!"
Female Fat Loss Over 40 helps women increase their metabolism, transform "jiggly" arms and helps develop flat abs. "I developed this program to help women over forty because their bodies are completely different from women in their early twenties- and even their thirties," continued Kaminski. "Offering this program as a downloadable item only really helps reach women across the country and get them started on their journeys to leaner, tighter bodies as soon as they click pay."
Shawna Kaminski is a retired schoolteacher of 20 years who's found her passion in the fitness industry. She's parlayed her ability to teach and her love of training into programs that hundreds have benefited from. Currently she owns and operates fitness boot camps in Calgary. Shawna is a 49 year old mother of two who can knock out over 20 pull ups with ease and she can teach virtually anyone with determination to do a pull up. Members of the media are invited to request a free copy of the program for review.