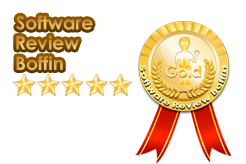 ...one prevalent characteristic of the software is that it's a specialized software most appropriate for SAT/ACT exam takers.
New York City, NY (PRWEB) May 01, 2013
Word Smart, a test and vocabulary building software product, has been awarded the 2nd place position by software review website Boffin. Today, the reviewers at the Boffin website released their evaluation of the software, which as they clarify is subject to change as new releases of the software are published.
The Boffin review on Word Smart is an objective one, giving a detailed assessment of both its good and bad features. According to the reviewers, one prevalent characteristic of the software is that it's a specialized software most appropriate for SAT/ACT exam takers. For someone wanting to get the Word Smart package for younger children, it's necessary to purchase different packages than the SAT/ACT one. While this specialization of each Word Smart vocabulary building package for specific needs and group ages make it more efficient for those immediate users, the Boffin reviewers underline that in the end this software series might be an unaffordable choice. As today's review points out, if someone wishes to keep practicing with Word Smart, they will need to purchase another age-appropriate Word Smart package once they have advanced beyond their current version. As the Boffin reviewers emphasized, this is a paradox about Word Smart as this feature is simultaneously an efficiency advantage and a financial disadvantage.
Its age-related structure is not the only feature of Word Smart that the review focuses on. According to the Boffin reviewers the Word Smart SAT/ACT prep package can, in about 20 hours of practicing, increase a user's SAT score by at least 200 points. In fact, the Word Smart company refunds customers who don't manage to achieve those extra 200 SAT points.
Overall, the Boffin reviewers suggest that Word Smart software is a reliable and efficient vocabulary builder and that its unique specialization features could be of great help, if the user purchases the right Word Smart package for their specific learning level. The Boffin review concluded that this and other vocabulary software reviews are frequently revised to make sure Boffin visitors are up to date with the latest software versions and features. The review also stated that while Word Smart was given the 2nd place ranking, in fact the differences in its actual performance when compared to the top ranked software were rather marginal.
Software Review Boffin reviews the latest technological products in demand on the market right now. They provide expert, honest and straightforward reviews so customers can objectively measure if a product, especially software is well worth it before making their purchase.
To learn more about Software Review Boffin visit http://www.softwarereviewboffin.com