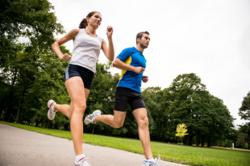 (PRWEB) May 08, 2013
According to PURE, because of the warmth brought about by spring, exercise buffs may want to take advantage of the weather by doing their workout sessions outdoors. However, common exercise mistakes, such as directly exposing themselves to pollens and other allergens, can cause allergy sufferers to abandon their sessions altogether due to increased and prolonged symptoms.
Experts warn that abandoning caution when exercising outdoors may lead to itchy eyes or stuffy nose while exercising and for hours afterwards. To avoid this, it is ideal for people to be aware of the pollen count and humidity levels before going on a run, swimming, hiking, etc. It's best to head out when the amounts are low.
Furthermore, putting on sunglasses can protect a person's eyes from UV rays and pollen. Additionally, after an outdoor session, it is best to take off one's exercise outfit as soon as possible to get rid of allergens that are stuck to the shoes and clothing. Washing exercise clothes and taking a shower immediately after a workout is also highly recommended.
PURE urges allergy patients to consult their doctors before taking medication they believe would help them exercise easier. There are nasal sprays and inhalers that act to open up a person's airways so that when taken right before heading out, it can actually make an individual more susceptible to pollens and other pollutants. Consulting a physician is best if people want their medications to work the way it should.
Meanwhile, an article on fitsugar.com suggests that people exercising indoors should exercise on a "hard, washable floor" instead of carpets and rugs as these are thriving room for allergens. It is also advisable for people to choose a clean and hypoallergenic indoor environment for their workout session since a poorly ventilated space with no air purifiers can trigger symptoms even when indoors.
About PURE Solutions NA
PURE is a company who offers innovative, safe hypoallergenic products at home or on the go. Aside from providing solutions for the home as well as PURE Rooms in partner hotels around the world, PURE is also working to bring their technology to schools, offices and other establishments worldwide. PURE Solutions' innovative system for hotels and conference centers provides PURE rooms, allergy-friendly rooms which offer indoor environments that have been treated to remove 98-100% of bacteria and viruses. The PURE room concept utilizes state-of-the-art purification techniques whereby each room is treated comprehensively to remove allergens and irritants from all surfaces, fabrics and air flow. Over 300 of the nation's top hotels have installed PURE to date and this system is being adopted at a rapid rate by hotels worldwide. Pure Solutions received the 2008 Innovator Award from The School of Hotel Administration at Cornell University. For further information, see http://www.pureroom.com.