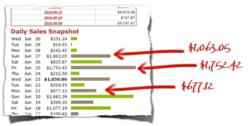 (PRWEB) May 16, 2013
The global conspiracy, new world order and end time prophecy related subject matters are one of the internet's fastest growing niche markets. Fortunately, many website owners, radio show hosts and those with large email lists of "hungry for information" subscribers are now able to make large revenues month by month by simply contacting Ementure about a recently launched program called "Awakening".
The "Awakening" program is a series of extensive information packed and image filled, ebook publications which are launched every month focusing on different elements of the big brother agenda. Each publication is normally around 200 -250 pages and divided into 4-5 sub reports.
The reports cover controversial topics such as chemtrails, crop circles, the UFO phenomena, the new world order, eugenics, codex alimentarius, return of the annunaki, electronic surveillance, the agenda behind social networking sites, transhumanism, genetics and human/animal cloning, the coming of the Maitreya, the deeper agenda behind the EU financial crisis, the splintering of offshore privacy, the scientific project to create an avatar and so much more.
James Callaghan, Business Development Manager for Ementure, emphasizes: "Many website owners and email list owners in the conspiracy niche struggle to find professional reports that they can market to their subscribers and customers on a regular basis and earn revenue. Furthermore because the reports are in PDF format it means that subscribers can get them instantly providing instant value."
Callaghan further stresses:
"Its amazing how non business minded many website owners and email list owners are. Many of them simply have no idea how much they could generate by simply once per month introducing their subscribers to an information packed publication and in doing so, provide enhanced customer value and satisfaction."
This service won't cost anything yet can help website owners, email list owners and content managers grow their business through new, ongoing content and stronger connections with their customers and subscribers.
To find out more information and sign up for this free service please see the following website below:
http://www.ementure.com/jointventure.htm
About Ementure Marketing:
Ementure Ltd is a specialist marketing agency that helps online businesses to increase customer demand. We have collated the resources of specialist new generation marketing consultants that are able to significantly grow business demand across an array of high growth market sectors using marketing concepts that outperform traditional marketing employed by mainstream advertising agencies.