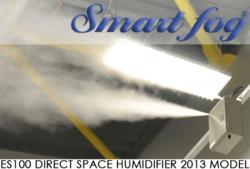 Smart Fog commercial humidifiers provide even distribution without fans saves on installation cost and energy.
Reno, NV (PRWEB) May 29, 2013
Smart Fog Inc, the leading manufacturer of commercial and industrial humidification systems, offers a range of humidification products for clean rooms and laboratories which are non-wetting, clean, and simple to maintain.
Clean rooms and laboratories require precise environmental control to protect sensitive materials and equipment inside. Smart Fog's humidification solutions offer precise, non-fluctuating humidity control, allowing for effective control over the environmental conditions of your facility. The unique characteristics of Smart Fog humidification systems create an ideal solution for controlled facilities.
Smart Fog's innovative non-wetting design produces droplets smaller than any other humidification system on the market. The small droplet size allows moisture to remain airborne longer and evaporate faster. Smart Fog's 4.2 micron droplets evaporate completely before reaching sensitive surfaces inside a clean room or laboratory, protecting your equipment and eliminating moistened surfaces. Larger droplets from wet fog and dry fog are larger and reach surfaces more quickly, wetting surfaces and creating poor moisture control.
With uniform droplet sizing and distribution, your humidity levels will not fluctuate. In a laboratory or clean room, fluctuating humidity levels can be detrimental to sensitive processes, experiments, and research. Smart Fog systems offer consistent delivery, allowing you to maintain precise control over conditions inside your facility.
Controlling contamination levels inside is of significant concern in clean rooms and laboratories. Smart Fog products are clean systems which do not introduce contaminants into your environment. Smart Fog humidification systems also offer unique features to keep your environment clean and free of excess contaminants. The patented Smart Fog technology adds oxygen to each droplet distributed and reverses the correlation effect using a non-chemical process, maximizing adhesion. Smart Fog droplets attract and oxidize airborne particles such as mold, dust, and bacteria, reducing airborne contaminants in your facility and providing complete dust suppression.
Smart Fog humidification systems are simple to maintain. The Smart Fog system design does not include moving parts. Larger orifice sizes help prevent clogging to ensure lower maintenance needs. The system's filter requires replacement only once every two years, reducing maintenance hassle.
Smart Fog humidification products include in-duct and direct space solutions for laboratories and clean rooms. If your application requires in-duct installation, a Smart Fog humidification system can be utilized without integrating droplet screens, ducts or drains. With complete evaporation technology, these elements are unneeded.
Smart Fog systems are simple to install. The plug and play installation design allows for quicker installation compared to other humidification products, reducing labor and installation expenses. Modular system design ensures the system will fit any application and size. With systems available for wall mounting, suspension, or in-duct installation, Smart Fog's compact, flexible solutions are simple to integrate no matter how your facility is designed.
About Smart Fog Inc
In business since 1980, Smart Fog Inc. is the recognized world leader in the industrial and commercial humidification systems industry. All products are manufactured in the United States. Smart Fog, The Humidification Experts, is a world leader in developing unique industrial and commercial humidifier systems to meet the individual needs of your environment.
For more information, visit: http://www.smartfog.com