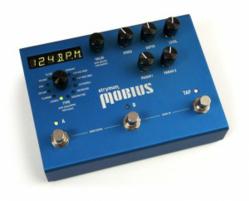 Sounds as glorious as its tech-spec suggests
Westlake Village, CA (PRWEB) May 02, 2013
Featuring 12 different types of modulations – chorus effects, flanger effects, phaser effects, a uniquely flexible rotary effect and more – "the amount of high-quality effects [Mobius] crams inside is amazing," writes guitar blog GuitarNoize.com. Within each modulation type lays a wealth of mod effects that Premier Guitar magazine describes as "shockingly accurate." The "sonic undulations" of the rotary effect, PG continued, are "deep and complex, and at times sound impossibly real."
Premier Guitar magazine bestowed its coveted "Premier Gear" award upon Mobius earlier this year.
In its popular audio blog, The Deli magazine is "extremely excited" about Mobius' recent release. It calls the mod pedal "super diverse" thanks to its wide variety of classic mod effects including "everything from lush choruses to pulsating tremolo as well as unlikely additions" – a few deep cuts included to inspire even the most discerning mod mavens.
In a shootout versus some classic mod pedals, Mobius won Sound On Sound magazine's praises for its "clarity, warmth, smoothness and depth." With "sounds as glorious as its tech-spec suggests," Mobius "more than held its own" against its predecessors. SOS ranks Mobius "among the best [mod pedals] of its type."
Aside from its collection of mod effects, the new Mobius pedal provides a solid tactile experience including the "satisfying click" of the Type knob (Premier Guitar) and the "good balance" Mobius strikes between editability and ease (Sound On Sound). Mobius feels as good as it sounds.
Premier Guitar thinks "it's getting harder to surprise folks with how good Strymon pedals sound." Sound On Sound noted that Strymon has "quickly gained a loyal following" in the five years since the company began making pedals. And The Deli called Strymon "one of the sickest companies making stompboxes right now."
# # #
Strymon is a creator and manufacturer of high-end, boutique music electronics, and is a division of Damage Control Engineering. For more information, please visit http://www.strymon.net.