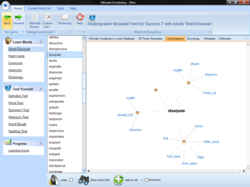 ...tools like interactive videos, illustration of vocabulary, and visual-perception activities offer a lot of help in achieving the goal of having an improved vocabulary.
New York City, NY (PRWEB) May 03, 2013
Ultimate Vocabulary developers agree with recent studies, which identify visual aids as necessary tools that aid in the development of a student's vocabulary. In a statement today by eReflect representatives, the company explains how these findings have been used in the development of the tools and exercises available in the software program.
Teaching students how to learn and improve vocabulary doesn't only entail familiarization with the words. A lot of the comprehension has to do with context clues, whether that means the location of a word in the sentence, or its role in the meaning of the sentence. To help the student with both of these aspects, it's essential to include visual aids when building a vocabulary improvement program.
When preparing for the release of Ultimate Vocabulary 2013, eReflect commented today, the results of a series of research studies were taken into consideration. The most recent study, as published in the June 2012 International Journal of Multidisciplinary Educational Research, found that "concrete visual experiences" are necessary in order to relate words with their meanings. As such, tools like interactive videos, illustration of vocabulary, and visual-perception activities offer a lot of help in achieving the goal of having an improved vocabulary.
The development team at eReflect made sure that this interactive, image-focused approach was part of the latest version of the program. For best results, these methods were combined with more traditional teaching methods of vocabulary (definitions, context, etc.). The more a student is exposed to a word, its meaning, and the correct context by which it is normally used, the more that student will be able to retain this word in their set vocabulary list. Effective learning is achieved not only by memorization, but more importantly, by comprehension. Not only is the use of this image-plus-information technique helpful for anyone interested in expanding their vocabulary, it is also going to be very helpful for the further development and improvement of reading abilities. It's obvious that the more words a person has stored in their "word bank," the easier it is for them to be able to understand written works.
Ultimate Vocabulary, the foremost computer software program maker for teaching tools focused on vocabulary improvement, stands by the findings of this and past studies that emphasize the importance of a multiple-modality approach to vocabulary training. The company also affirms the conclusion of the 2012 study that visual aids do contribute a lot of benefits in a study program for vocabulary improvement.
As such, Ultimate Vocabulary makes sure that their software programs are designed to include such visual aids, like flash cards, to accommodate the learning needs of the end users. The exercises and lessons prove to be a lot more helpful in assisting students to familiarize themselves with the spelling, meaning, and contextualization of words because they have made sure visual elements are used – one of the many things that make Ultimate Vocabulary a top-rated software program for vocabulary improvement.
For more information on how you can benefit from Ultimate Vocabulary, please visit its official website, http://www.ultimatevocabulary.com.
**********
About Ultimate Vocabulary™
Ultimate Vocabulary provides a proven and powerful platform, built to improve anyone's vocabulary.
The interactive self-improvement system provides more learning tools than any other program on the market, as well as more information on words.
The Ultimate Vocabulary software provides each and every user with a personal computer tutor. Providing a step-by-step guide to learning a powerful vocabulary, Ultimate Vocabulary is the learning tool everyone can benefit from.
Of course, the software is also backed by eReflect's iron-clad money back guarantee.