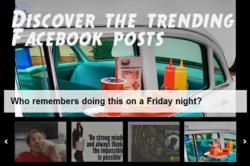 Find out what is going on Facebook just taking a look at Reposty.com
(PRWEB) May 07, 2013
Reposty.com and Reposty.eu has launched as a new online social media tool that complies the best of the best posts from all around Facebook. Reposty is a social media service that tries to aggregate the most popular posts on the largest social networking site. Through its automated search engine, the tool explores the millions of Facebook pages every day to showcase those that have accumulated the most likes, which posts are most influential, and which ones are growing faster than others.
Reposty.com is a start-up company that specializes in social media analysis. It accumulates the most interesting pictures, texts and other posts and makes them available to be viewed in one easy to go to website.
Reposty's set up allows users to immediately view the highest trending posts of the day. It also separates posts into different categories such as "Arts and Entertainment" and "Pets" to give a clear statistical overview of the most popular posts in those groupings. And users aren't limited there. Through the advanced tagging algorithms, this social media tool grants users the ability to search for any word or phrase in the search bar which will yield results that include pictures and videos in addition to written posts.
Sifting through the wonders on Reposty lets users discover for themselves new and interesting pages to follow. Quality content can be discovered for every user no matter where their interests lie.
The site is the sister to the already popular Rebloggy which compiles the best posts from Tumblr.
With the success of Rebloggy, the creators decided to take the same mechanisms behind that successful social media tool to the world's biggest social media site.
Visit http://www.reposty.com to discover the highest trending posts on Facebook right now.