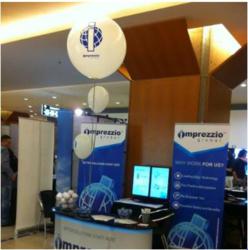 If you're being held back from making something super awesome because you can't choose a database, you're doing it wrong.
Spokane, WA (PRWEB) May 16, 2013
Since 2008, US-based Imprezzio's European branch has specialized in enterprise cloud-based applications, software as a service, mobile applications, existing-system integration, contact and marketing management and embedded hardware solutions, making Software Architect Savga and Software Developer Radoi Riger uniquely qualified to address the issues surrounding the databases at the heart of business computing.
"If you're being held back from making something super awesome because you can't choose a database, you're doing it wrong," Savga says.
Their recent presentation, "Is NoSQL the Sequel to SQL," began with a brief history of IBM's Structured English Query Language (SQL) and its shortcomings, which include:

Relational Database Management Systems don't always scale well
Costs can be prohibitive
Occasional performance issues when accessing complex data
The need to "twist" some data to fit into the "relational world"
The presentation then touched on NoSQL (Not Only Sequel), which came about when companies like Amazon and Google needed a fast, cheap solution to store huge amounts of data and access it quickly. It is mostly open source, and tables can readily be shared across servers. But NoSQL is not without its challenges too, say Savga and Radoi Riger:
Transactions are at the row level only, if they are supported at all
High fault tolerance must be built into the application
It's poor at complex joins
There is no common model
So what's a developer to choose? NewSQL may be the answer, say Savga and Radoi Riger. Still in its infancy, this database seeks to provide the same scalable performance of NoSQL systems for online transaction processing workloads while still maintaining the ACID guarantees of a traditional single-node database system.
Of course, particular system needs will drive particular system decisions, they note. So if a system design calls for a cost-effective, fast data tier and does not involve any complex transactional behavior, it is best to choose a No-SQL database system on the back end. For transactional-driven systems, a traditional relational database back end will provide the atomicity needed without extra effort.
On the other hand, systems architects can choose to use both approaches, mashing them up into one design containing the best of both worlds: For example, handling all transactional mechanisms in a relational database but handling caching and other similar needs in No-SQL.
About Imprezzio Inc.
About the Cluj IT Cluster
The Cluj IT Cluster is an association of members active in the Information Technology field including: 26 IT services and software solutions providers; two universities; seven public institutions and catalyst organizations. The Cluj IT Cluster aims to increase the competitiveness and attractiveness of the Romanian IT sector overall and to position the city of Cluj as a regional innovative IT hub.