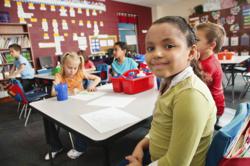 Scottsdale, AZ (PRWEB) May 01, 2013
Sherri Adler, Cecilia Rudzitis and Tricia Salerno, three of SMARTTraining's lead trainers, have been selected by Common Core to be part of a team which will create the New York math curriculum, entitled, "A Story of Units." A Story of Units "will be the most comprehensive set of Common Core State Standards-based mathematics curriculum materials available anywhere," according to Common Core.
Nell McAnelly, Project Director of Common Core, Math Curriculum Development Project stated that Sherri, Cecilia and Tricia were selected to be part of this team based on their "expertise in math content and demonstrated understanding of the Common Core State Standards." The team for this project assembled in Albany, New York, on February 8, 2013, to collaborate among mathematicians, professional development providers, and nationally recognized educators who possess a deep understanding and love of math. Barbara Davidson, the Vice-President for Programs of Common Core, presided over the meeting and was impressed with the level of math content knowledge, professionalism and enthusiasm to help improve the future of our country through education.
The mathematics curriculum will be distributed by EngageNY.org. EngageNY.org was developed and is being maintained by the New York State Education Department. It is the official web site for current materials and resources that are related to the Regents Reform Agenda, part of which pertains to the implementation of the New York State P-12 Common Core Learning Standards (CCLS). The site is dedicated to providing educators in New York with "real-time, professional learning tools and resources to support educators in reaching the State's vision for a college- and career-ready education for all students."
According to Sherri Adler, an internationally recognized provider of staff development for elementary school teachers of mathematics, "The Story of Units is providing engaging hands-on lessons for students, as well as providing teachers with a better understanding of how to successfully teach math." The Common Core Standards for math are based, in part, on the curriculum of Singapore. Tricia Salerno, who has consulted with the Ministry of Education of Singapore states, "The future of the United States is dependent on the education of our youth. The Story of Units is an in-depth, cohesive mathematics curriculum based on New York's CCLS and real-life application."
Through this project, Adler, Rudzitis and Salerno have been able to give a voice to the needs of teachers with whom they have worked in public, private and charter schools across the country. They are very excited to be part of the team which has the passion and dedication to help bring this project to the next level.