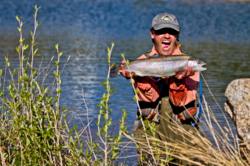 The town of Gunnison may very well be the center of the trout-fishing universe.
Crested Butte, Colorado (PRWEB) May 06, 2013
As recent snows continue to feed the mountain streams in Gunnison County, Colorado, the fly-fishing season has kicked off at Wilder on the Taylor with the landing of several 16- to 21-inch rainbow and brown trout and the appointment of Lu Warner as master guide for fishing and mountain biking.
The historic hay and cattle ranch, located between Gunnison and Crested Butte and also operates as a ranch community, has five miles of private fly-fishing waters, including two on the fabled Taylor River. "The Taylor River has consistently proven to be the strong, productive fishery that fly fishing anglers have grown to respect," says Brad Willett, General Manager and lifelong fly fisherman. "The runoff this spring has been significant and flows were up above 1,000 CFS. Fishing the on-site Rarick Creek with big bead-headed nymphs trailed by a red worm or even a chartreuse egg has been very effective. Fly fishing has been challenging on the river, but it has yielded some very nice rainbows and browns."
The increased flows this spring should result in exceptional fly fishing at Wilder on the Taylor and in Gunnison County this summer. "The clarity is improving daily and the flows from the Taylor Dam are now below 500CFS," confirms Mr. Willett. For regular fishing reports, visit http://www.wildercolorado.com.
Lu Warner Selected as Master Guide
New this year at Wilder on the Taylor is the appointment of a master fishing guide, Lu Warner, who has been fly fishing and tying flies since the young age of 8. His childhood years were spent on the small streams of New England and Quebec and his adult years in Alaska, New Zealand, British Columbia, Quebec, Argentina, Chile, and the Rocky Mountain West. Since 1985, he has worked as a fly fishing guide in Idaho, Montana, Colorado, Alaska, Argentina and southern Chile. Currently, Warner guides in the Crested Butte area from May through October and in Chile and Argentina the rest of the year. In 2006, he realized a lifelong dream and purchased the Valle Bonito Lodge in Chile.
Warner's extensive background in mountain biking also will be tapped at Wilder on the Taylor as a master guide for owners and guests. For several years, he owned and operated Western Spirit Cycling, a mountain bike touring company based in Moab, Utah, and guided people from around the world on multi-day mountain bike adventures in Utah, Montana, Colorado, Arizona and Idaho.
Top 5 Reasons to Fish Gunnison County
With hundreds of miles of scenic waterways and several million fish released each year from the state's Roaring Judy Fish Hatchery near Almont, Gunnison County is a fishing enthusiast's paradise.
There is a passion for fishing in this part of southwest Colorado, where a quiver of fishing rods is lined up next to a row of skis and bikes in locals' garages. Gary Giudice, a contributor to ESPNOutdoors, and his fishing buddy Ed Weber scoured Colorado—which they deem the best trout state—searching for the best trout streams. Giudice confirms, "The town of Gunnison may very well be the center of the trout-fishing universe. Everyone and everything seems to focus on the trout fishing. The fly shops are great and the river outfitters are the best we've encountered."
1. The opportunity to purchase land with private fishing waters still exists. The 2,100-acre Wilder on the Taylor has a two-mile stretch of the Taylor River running through the heart of the property. In addition, approximately three miles of newly constructed stream on the ranch was by created Matt Weaver, owner of well-known Fiver Rivers Restoration, and is fed from the Taylor River and Spring Creek.
The cattle and haying ranch has been continuously operated for nearly 100 years and features 26 homesteads, each with a minimum of 35 acres and a one-acre building envelope. Nearly 90 percent of the property is protected from future development.
2. There is a dizzying array of waters to fish. Just down the road from Wilder on the Taylor are the Taylor Reservoir and the juncture of the Taylor and East Rivers to form the Gunnison River in Almont. Also nearby is Colorado's largest body of water, Blue Mesa Lake. These, along with many high alpine lakes and creeks are exceptional habitats for kokanee salmon, northern pike, mountain whitefish and brown, rainbow, cutthroat, brook and lake trout. In fact, Gunnison County holds state records for brown, rainbow and lake trout and kokanee salmon. Nearby are 13 miles of prime gold medal water in Black Canyon of the Gunnison, Colorado's version of the Grand Canyon.
3. Roaring Judy Hatchery helps keep the fish population vital. This coldwater facility, operated by Colorado Parks & Wildlife, is home to the largest kokanee salmon run in the United States and raises fingerlings and catchable kokanee salmon, cutthroat trout and rainbow trout. Part of the hatchery property is an 840-acre wildlife area that is a popular destination for fishing, hunting and wildlife watching.
4. Angle, bike and ski all in one day! While there will be days the fishing is so outlandish that nothing else will beckon, but a half day or a few hours of fishing can easily be paired with world-class hiking, biking, horseback riding, rock climbing and golfing in Gunnison County. Sometimes, when the stars align, it's possible to ski, bike and fish all in one day.
5. Learn from the pros and take part in fishing events. A wide variety of outfitters in Almont, Gunnison and Crested Butte not only provide the gear and the guides, they possess insider knowledge that is yours to tap. A women's fishing chapter and female guides also are a plus for fisherwomen who love the sport or are just learning.
There is a plethora of fishing events in summer and fall such as two tournaments on Blue Mesa in May, a fishing derby on Taylor Park Reservoir in June, Bridge to Bridge Fly Fishing Tournament on the Gunnison River and Crested Butte Land Trust's Caddis Cup in July, and Gunnison Angling Society's Superfly Fishing Tournament in September. Dan's Fly Shop in Gunnison and Wilder on the Taylor teamed up to host groups from Project Healing Waters, a program dedicated to the physical and emotional rehabilitation of disabled active military service personnel and veterans, the past two summers.
"Fishing in Gunnison County is truly epic," says Ron Welborn, development partner at Wilder on the Taylor and an avid fly fisherman. "To see the memories being made and hear fishing stories passed around the campfire when a family of three generations has enjoyed an exceptional day of fishing at Wilder on the Taylor is priceless."
For more information about fishing at Wilder on the Taylor go to http://www.wildercolorado.com.
Wilder on the Taylor is an angling paradise and a preservation-oriented 2,100± acre ranch community offering a total of 26 riverfront homesites conveniently located between Gunnison and Crested Butte, Colo. Each homestead is a minimum of 35 acres with a one-acre building envelope. As private fly-fishing water is increasingly difficult to procure, Wilder presents a rare and distinct opportunity to own an undivided interest in one of the best fishing properties in the western United States. Easy to find and easy to reach, Wilder is the unmatched place for families and friends to quietly gather and enjoy the wonders of Colorado and the history, traditions and culture of the American West.