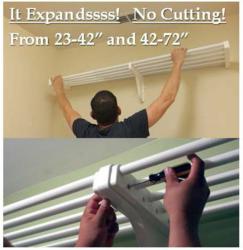 Easy Install and Big Upgrade to our Home.
Organizer is extremely heavy duty. Was easy to install and took me 30 minutes to install the shelf and rack and then a shelf right above it.
Website review by M. Glickman April 17, 2013
Boca Raton, FL (PRWEB) May 01, 2013
Wireless and High-Tech has now come to closet organizers do it yourself, and closet makeovers.
Tube Technology of Boca Raton, FL has just introduced "THE BEST CLOSET ORGANIZER". They are made in the USA with a Lifetime Guarantee and they solve storage problems for DIY Consumers, Handymen, Contractors, Homebuilders and others.
A Tube Technology Shelving System is not a flimsy wire shelf; it is made of high strength steel expandable tubes, and high impact polypropylene parts. Our patented closet systems do it yourself have numerous benefits for consumers, contractors and home builders including:
•Easier to Install - No Complicated Measuring
•No Cutting – Less Tools, and Chances for Mistakes and Accidents
•Our Products Expand – Limitless Possibilities
•Stronger – Made From High Strength Steel Tubing
•Fewer Small Pieces and No Flimsy Wire
•Less Labor to Install– Save over 50% in Installation Time
•High End Design – Better Looking
•Modular - Easily Joined Together to fit in any size closet
•Competitively Priced – No Expensive Parts Needed
•Lifetime Guarantee
•Made in the USA
Tube Technology Closet Organizers and Closet Systems are all expandable and there are four main SKU's; Expandable Closet Shelf 23-42", and 42-72" and Expanable Closet Rod and Shelf combination 23-42" and 42-72". Presently they are available in white only and can be purchased on line at http://www.thebestclosetorganizer.com, Amazon, and Ebay. Consumers have asked us to provide our amazing products through Home Depot, Lowes and Menards, and we hope to be able to offer them nationwide in the near future.
About Tube Technology LLC
Tube Technology is located in Boca Raton, FL. Its products are protected by USA Patents D487369, D510223, D507479, & Canadian Patents: 7150364, 105422, 2454211.
For more information please visit http://www.thebestclosetorganizer.com
or call 888-399-2880.