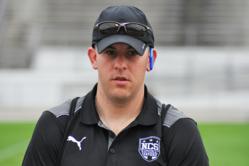 Moments are what all athletes live and play for. It's not just about performing your chosen sport; it's about performing under extreme pressure. Jay McPherson.
San Diego, CA (PRWEB) May 04, 2013
Interactive sports apparel brand Moment Sports has agreed to provide sports apparel to the National Camp Series (NCS) Associate KICKNATION for its 2013 camp season according to KICKNATION President Chris Shaw.
Go here for more information about KICKNATION.
"KICKNATION has just received sponsorship from Moment Sports, a new 'sports apparel' company out of Orlando, Florida" says Shaw.
Shaw says the Moment Sports brand is essentially built off of the emotion with an athlete's "moment" in sports.
"I believe it's an ingenious company and opportunity," says Shaw. "After receiving the opportunity from Moment Sports, it was clear having an association with them was a continuation of the KICKNATION mantra of being surrounded with success minded people, who have a positive and creative vision, and also believe in giving one hundred percent of everything they do in each moment."
Shaw knows what both 'success' and 'emotional moments' are in sports.
With over 18 years of on the field punting and kicking experience, Shaw has become one of the most sought after kicking, punting, snapping and special teams' consultants in the NATION. Shaw not only instructs at the college level, but has also worked with over 200 high school coaches to break down the kicking, punting and snapping game.
Jay McPherson, Founder of Moment Sports, sees the value in Chris' extensive experience.
"Sponsoring KICKNATION is a fantastic opportunity to get involved with a great organization that really understands what Moment's message is to our athletes," says McPherson. "Kicking in football is often a win/lose situation and Chris' organization really embraced our message of performing under pressure. We think it's a perfect fit with great people involved and we look forward to maintaining this relationship for years to come."
According to McPherson, Moment Sports is about connecting athletes in their 'moment' of success.
"Moments are what all athletes live and play for," says McPherson. "It's what we're passionate about at Moment. Success under pressure and the hard work it takes for the reward. But success can be measured in numerous ways - overcoming adversity or just having the chance to compete can be just as special as the climactic event that separates winning from losing. From weekend warriors to high school and college athletes all the way to the professionals, each of us has our own definition of what Moment means."
"Moment's consumers are athletes," says McPherson. "Our quest is to find those athletes who embrace pressure, overcome adversity and find their moment."
He says he has found the Moment 'spirit' in kicking coach Shaw.
Shaw, who along with running KICKNATION, is also a National Camp Series(NCS) Associate, develops trains, and mentors kickers, punters and snappers all over the country while instilling a strong work ethic, and solid foundation along with a winning attitude. He has an exceptional track record of successful and aggressive business development and marketing plans (including strategy, planning, execution and post-analysis).
Shaw says he is looking forward to representing Moment Sports in all of his 2013 KICKNATION and KICKNATION NCS events.
"We look forward to our athletes having a ton of "MOMENTS" this year in football, and are glad to be a representation of Moment Sports," says Shaw.
The National Camp Series(NCS) was founded by retired NFL kicker Michael Husted, and is a collection of some of the best kicking, punting and snapping coaches in the country.