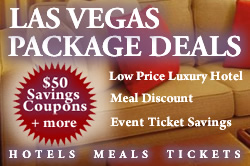 With cheap hotel prices including one breakfast buffet, $25 off both dinner and a show and all of this at a four star resort like the Mandalay Bay, now marks the time to start planning that Vegas trip that keeps getting pushed off.
Las Vegas, NV (PRWEB) May 16, 2013
A Mandalay Bay Hotel reservation in Las Vegas booked so cheaply the traveler gets paid for the trip? Now that constitutes winning in Las Vegas! Some of the new hotels package offers from Financial Firebird Corporation's HotelsLas-Vegas.com and related sites hit that mark for at least one night with a discount package worth over $80 and cheap room rates starting at $65 per night at the four star Mandalay Bay Resort.
Of course, everyone wants discounts, so price marks the first key element in this package deal. Room rates vary depending on when a person wants to travel to Las Vegas, but for certain dates prices drop to a very cheap $65 per night level with a much wider array of dates available with room rates at $100 per night or less. Those represent low Las Vegas hotel prices in general, let alone at luxury accommodations like the Mandalay Bay Hotel.
Travelers taking advantage of this deal to travel to Las Vegas and stay at the Mandalay Bay Tower can relax in a 550 square foot hotel room with floor to ceiling windows, his and hers closets and a 42 inch high definition TV. Alternatively guests may use the offer to upgrade reservations to THEhotel within Mandalay Bay and book a 725 square foot suite with separate bedroom and living areas in addition to all the features in the Mandalay Bay Tower. Rates for THEhotel suites at Mandalay Bay run a bit more but some limited dates start at just $85 per night with a fair number under $150 per night.
Two special bonus aspects of the deal involves meals. Start one day with a breakfast buffet included as part of the package, valued at $31.98. In addition to eating at the Bayside Buffet right in the Mandalay Bay complex people booking this package trip may use their breakfast buffet credit at other Las Vegas Hotels operated in conjunction with MGM. Alternative free breakfast buffet venues include the MGM Grand Hotel, The Mirage Hotel and the Aria Resort.
After spending the day at the Las Vegas Casinos or other attractions, enjoy dinner at one of three Mandalay Bay restaurants with $25 off. Patrons may select their choice from Aureole, StripSteak or Hussong's Cantina for a meal. Aureole offers great seasonal dishes and a wine list numbering over 3000 options. StripSteak features a menu with fresh ingredients, corn-fed, all-natural meat, line-caught seafood and Kobe meat. Combine their fine entrees with a great ambiance and 300 single malts from the bar for a great evening. At Hussong's Cantina guests enjoy a Mexican menu and sometimes even a sing-along rock 'n' roll Mariachi band.
After dinner finish the Sin City experience with a Las Vegas Show or concert with $25 off tickets provided by Tickets-Cheapest.com where fans can always find cheap tickets for concerts, theater or pro sports events. Concerts of special interest include Celine Dion or try the other end of the music spectrum with Black Sabbath. Tickets for Cirque Du Solel Las Vegas shows, may be purchased with the coupon as well including the very popular Cirque du Soleil - Michael Jackson: One right at the Mandalay Bay or Cirque du Soleil - O. If tastes run more to Broadway buy tickets for the Jersey Boys tour stop in Las Vegas using the discount code. While the Mandalay Bay package deal site recommends a dozen specific Las Vegas show and concert options, those booking the package may choose from just about any popular Las Vegas event.
Conditions to qualify for this special Las Vegas hotel package deal at the Mandalay Bay Hotel or THEhotel at the Mandalay Bay complex remain very simple. To qualify for the discounts book a room for at least two nights at the HotelsLas-Vegas.com site, avoid a few blackout dates or sold out dates, choose the restaurant including making a certificate request, buy tickets in advance at Tickets-Cheapest.com and than just complete the stay.
A trip to Las Vegas means taking part in all that the city offers including great food, shows, hotels and casinos, why not save many in as many of those areas as possible. With cheap hotel prices including one breakfast buffet for two people, $25 off both dinner and a show and all of this at a four star resort like the Mandalay Bay, now marks the time to start planning that Vegas trip that keeps getting pushed off.
About Financial Firebird Corporation Hotel Websites
HotelsLas-Vegas.com and HotelLasVegasNV.com stand with a group of hotel sites from Financial Firebird Corporation designed to help those who travel including its related sites Low Price Hotels and their Hotel Deals online site designed to help charities raise money, Hotel Map pages or site to find Hotels Close To Broadway. For this Mandalay Bay offer, MGM provides the hotel accommodations and buffet breakfast which the consumer must book through Financial Firebird's website HoetelsLas-Vegas.com and Financial Firebird independently provides the supplemental dinner discount and ticket coupon without participation by Mandalay Bay or MGM. See the MandalayBay.HotelLasVegasNV.com site for a complete set of terms, conditions and offer details.