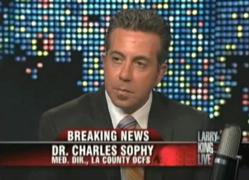 Patients are looking for safe alternatives and adjuncts to drug therapy
Los Angeles, CA (PRWEB) May 01, 2013
World-renown psychiatrist Dr. Charles Sophy has joined a growing number of doctors who use the Fisher Wallace Stimulator® to treat patients suffering from depression, anxiety and insomnia. The Fisher Wallace Stimulator® is a portable medical device patients can use at home. It was cleared by the FDA for the treatment of depression, anxiety and insomnia and has been on the market since 1991.
"Dr. Sophy told us that many of his patients are looking for safe and effective alternatives and adjuncts to drug therapy," states Charles Fisher, President of Fisher Wallace Laboratories. "Our device works very well in conjunction with medication," Mr. Fisher continued, "allowing many patients to reduce dosage under their doctors' supervision."
Dr. Sophy is documenting his work with an insomnia patient named Camille in a new YouTube video series that has already garnered over 70,000 views.
Dr. Sophy is board-certified in three clinical specialties: Adult Psychiatry, Child & Adolescent Psychiatry and Family Practice. He has dedicated his life to the physical and mental well-being of children and families from all walks of life. As the Medical Director for the Los Angeles County Department of Children and Family Services (DCFS) - the largest Child Welfare System in the United States - Dr. Sophy is responsible for directing the physical and mental health, as well as ensuring the safety, of over 40,000 foster care children. He also maintains a robust private practice in Los Angeles. Dr. Sophy has made many guest appearances on television and radio including "Dr. Phil", "The Today Show", "Anderson Cooper 360", PBS' "A Place Of Our Own" and "Dr. Drew LIVE." He has been quoted in The LA Times, The Washington Post, USA Today and The Chicago Tribune, and he has been both interviewed and published in major magazines, including "Parents", "Men's Health", "Family Circle" and "Redbook."