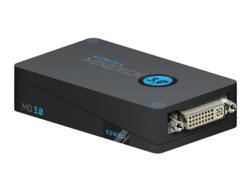 The upgraded chipset and added USB 3.0 support all translates into fast, reliable video without lag.
Orem, UT (PRWEB) May 27, 2013
For some time now the Minideck USB to DVI adapter has allowed users to easily add multiple monitors to any computer with a USB port. Basically it acts like an external video card, that way even high-end monitors and HDTVs can be used with any computer with a USB port. Sewell has recently announced their newest version of the Minideck (the Minideck 3.0) which should be available for purchase early this summer.
The newest model of the Minideck promises a new chipset, which will greatly enhance the speed and power of the Minideck. It will also include USB 3.0 support.
One of the biggest problems that people have experienced with external devices is speed. That's because the computer, monitor, and external device need to compress data before it can be transferred, and then decompress it upon arrival. Slow transfer rates due to this process of compression can cause choppy streaming and lag when watching video. The upgraded chipset will implement real-time adaptive compression technology to balance compression methods from moment to moment based on content, USB bandwidth, and CPU power availability. That gives users the best USB graphics at all times.
The Minideck 3.0 combines the new speed and power of the new chipset with SuperSpeed USB 3.0 support. USB 3.0 can transfer data at rates of up to 5 Gbps. That's over twice as fast as USB 2.0. All of this translates into fast, reliable video without lag.
Users will also be able to use multiple Minidecks to add up to 6 displays. That means people can easily get the command center of their dreams! To make it installation clean and easy, there are magnets implemented into the housing of the MInideck 3.0. That allows users to stack multiple units cleanly, or put them in an out of the way place, keeping their desk space attractive and organized.