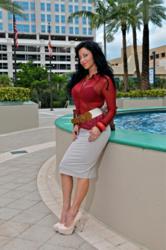 To evolve is to shed old ways of thinking and behaving, while enjoying a new reality. The 7 intentions serve as a guide to uncovering the optimized version of yourself through the reconnection to Spirit and community.
Miami, FL (PRWEB) May 01, 2013
A representative from S & S Entertainment Partners, Inc. announces that Stella Vidal, The Executive Producer and star of the nationally syndicated television show "Livin La Vida with Stella & Stuart has just released her first Self Help book entitled "7 Intentions to a Happier YOU!" and it's sure to be a best seller. International celebrity Stella Vidal has combined her Master's Degree in Mental Health and hands on experience as both a therapist, Director of Human Services programs, and highly successful Life coach, coupled that with her unique perspective derived from the appreciation that comes from being a Latina immigrant into the United States, to create a practical day to day life philosophy that will ensure happiness despite the ups and downs that life brings.
7 INTENTIONS TO A HAPPIER YOU! is written for people who have gone through a major shift in their lifestyle, while realizing that their old set of values are no longer conducive to their betterment.
Those who have endured some form of tragedy, either personal or professional, are now standing looking at a fork on the road: they either resign themselves to fear, loss, and lower vibrational energies, OR INTEND to replace some of the past habits that have left them in search for answers. Although a seemingly scary task to let go of old habits and welcome the new, 7 Intentions to a Happier YOU! will make the transition into your new reality simple and effective.
It has been described as a "Gentle Guide" to address difficult issues that both men and women are going through today. Unlike most other Spiritual Gurus, Miss Vidal, a fitness model herself, dedicates a whole chapter on fitness and the role it plays in our evolution toward becoming happier, more stable beings. In a non-threatening manner this writer educates the reader about the importance of taking care of one's body, as well as mind, and Spirit.
You will walk away after reading the 7 Intentions, more equipped than ever to tackle life's ups and downs, while not compromising yourself, Stella Vidal.
The book is available in both hard cover and on kindle exclusively at Amazon.com and at stellavida.com.
WHAT PEOPLE ARE SAYING ABOUT 7 INTENTIONS TO A HAPPIER YOU!:
As a former South Carolina State Attorney, a member of the Florida BAR, a Certified Financial Planner and a member of the International Coaching Federation, I highly recommend Stella's book and workshop, "7 Intentions to a Happier You". This workshop will have a profound impact on children and adults looking to improve their personal and/or professional life and help them live their lives with intention and understanding of their ultimate purpose.
Stella has vast education, experience and success as a therapist, coach, business woman and in charitable causes.
Stella's mission in life is to help others discover their human greatness and to live with passion and purpose. She does not just talk about it like most speakers, she lives it. Her energy, excitement and enthusiasm for life will be contagious to anyone reading her book." Jamie Croland, JD., CFP
Here is where to purchase the book on Amazon and Kindle:
http://www.amazon.com/Intentions-Happier-YOU-actualization-discovery/dp/1483981460/ref=sr_1_1?ie=UTF8&qid=1366029778&sr=8-1&keywords=stella+vidal
S & S Entertainment Partners, Inc. is a diversified, multimedia company encompassing audio visual and literary aspects of entertainment. The company is responsible for the creation of a Wellness, Lifestyle traveling series, Livin La Vida with Stella and Stuart, currently in national Syndication.
For more information and media,
contact Stuart Warren Dansby at 305 450 9553
or info(at)livinlavida(dot)tv