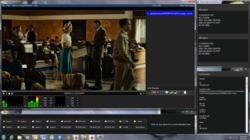 Clearwater, FL (PRWEB) May 13, 2013
Vela Research announced the general availability of its ArgoNavis QC Automation solution to enable the efficient QC and Verification of Programming and Content in Broadcast, Cable, IPTV, Post Production, Content Creation, Syndication and Video Distribution operations.
Vela's ArgoNavis solutions are elegant, compact, easy-to-deploy and integrate systems that provide a full set of video and audio formats and protocols, 608 and 708 Closed Captioning, VANC and metadata capabilities, and intuitive user-interfaces, allowing local/remote control and easy integration into existing workflows.
ArgoNavis's Comprehensive QC solution enables operators to verify and check for:

Closed Captioning
Frame Integrity
SDI and VANC data
Video and audio metadata
CableLabs compliance
Audio integrity/Loudness levels
CALM Act compliance
Ultra high bit-rate, mezzanine content QC and verification
Supports all major video and audio formats, bit-rates, frame-rates and resolutions
Ability to define flags, alerts or alarms as desired by the operator
Rapid, flexible integration into existing workflows within operator environments
Decison rules based processing, scheduling, creation of smart folders, report-generation and faster-than-real-time processing of large volumes of content
Increases operations' records keeping for operational planning/audits, customer/advertiser reporting and regulatory compliance
The ArgoNavis supports an exhaustive range of video and audio formats, and provides an easy-to-use GUI that makes the process of integrating into existing workflows quick and easy. It helps operators build confidence in their programming by ensuring the quality of the high bitrate source content early in the processing and re-purposing chain. The system comes in a 1.5 RU form factor, 3TB of built-in storage, and HD/SD-SDI, HDMI and Analog I/O. The solution supports a wide range of audio types associated with mezzanine files, including SMPTE 302M PCM, LPCM, AC-3 and other formats. It also supports Apple ProRes and other high level and editor formats to ensure quality of the source content. A powerful API along with modifiable sample applications is available for operators seeking to customize the solution to their specific workflow, feature and interface needs.
Please request further information and spec sheets on Vela's solutions here. For further information and to schedule a demo of these solutions, please contact Kevin McDowell at 954-558-2063 or Bob Gerald at 727-507-5367.
About Vela: Vela® is an Emmy® award winning company offering a complete range of high quality SD and HD products for the broadcast, cable, post production, enterprise and education markets. Vela designs and manufactures system and board level solutions used in a variety of media applications. The board level products are also integrated into advanced systems and video servers offered through Vela and its partners. Over the past 18 years, Vela has earned recognition by virtue of the trouble-free, high-performance and cost-effective solutions in use in demanding customer environments worldwide. Vela is based in Clearwater, Fla., USA, and is on the web at http://www.vela.com.