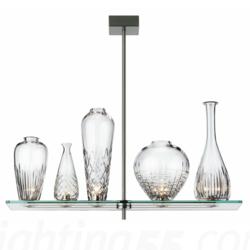 Cicatrices De Luxe 5 by Flos
Tarpon Springs, Florida (PRWEB) May 02, 2013
Lighting55, the leading European lighting fixture dealer in the U.S., introduced a brand new range of modern light fittings from Italian light designers, Flos. The new collection of fashionable indoor and outdoor lights includes chandeliers, ceiling lights, pendants, floor lamps, and table lamps. The uniqueness of the collection lies in the effortless blending of traditional and contemporary designs. Made from metal, glass, fabric and crystals, these lights from Lighting55 promise to adorn plush decors in different types of buildings.
The added benefits of an uncompromising customer support and free shipping make buying lights from Lighting55 a pleasant experience. Carey Z., an interior decorator from LA raved about the quality of the lights and the way her order was handled. She expressed her views, "I'm very happy with the new Flos lights I bought from Lighting55. They arrived right on time and in excellent condition."
All light fixtures from Flos Lighting sold at the Lighting55 online store are handpicked and assorted into strikingly beautiful collections. Among the floor lamps designed by Flos, there are those that come with adjustable height and shades that help users moderate the amount of light let out. Many have enamel steel bases on which brass stems are fixed. These are often nickel plated to give off an added luster. The floor lamps are an award winning collection and are made of metal. The Cicatrices De Luxe 8 is a suspension light that glows through hand-cut crystals. These are arranged on a glass base and concealed in ceramic coated metal. The extra clear glass and the fire-repellant aluminum crystal seats make it an alluring fixture. It weighs 33 pounds and reaches a height of 150 centimeters.
The Arietta Wall lamp produces soft, flowing, diffused light throughout the room. It uses an artificial light diffuser and makes for an ideal wall-mounted lighting fixture. The largest Arietta lamp weighs 2.43 pounds and can be placed and moved around the house for a perfect setting. Naturally, customers are ecstatic about the lights from the Lighting55 Flos line. Danny L., an architect from Austin, expressed his views, "The Flos lights are in perfect condition. I'll definitely buy from them again." Sandra B. a homemaker from Pennsylvania expresses her complete delight after buying floor lamps from Lighting55, "I bought a floor lamp from the Lighting55 online store. I'm thrilled; it's just what I wanted for my home. Highly recommend."
Lighting55 is an industry leader in supplying avant-garde contemporary indoor lighting fixtures in the US. The company provides free worldwide shipping of its products. They offer excellent installation guidance to customers so that their lights remain in perfect working condition for many years. The ease of purchase, the affordability, and the sheer beauty of lights have made the Lighting55 online store a one-stop destination for all lighting needs. It enjoys AAA rating under the Best Business Bureau and is known for its world-class customer support.