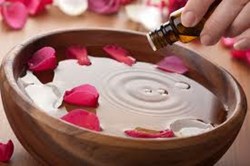 My job is to re-educate people that the use of Essential Oils, for example, can significantly transform their overall health, with little to no side effects and at a significantly reduced cost
Delray Beach, FL (PRWEB) May 02, 2013
Rohrer Dental Wellness Center, a dental practice located in Delray Beach, FL., has now for many years embraced the idea of wellness and whole body health to its philosophy of practice. Through a series of seminars and workshops, Dr. Joy Rohrer is hoping to educate and inform local Palm Beach residents about alternative means to achieve optimal whole body health through proper diet and lifestyle changes, as well as the use of Pure Essential Oils.
"It is an undeniable fact that modern technology and medical research have considerably improved our understanding about our health and our body. But, in a way, we have reinvented the wheel, disregarding thousands of years of research that show the benefits of using natural, proven techniques and materials that can improve your health in a safe manner. My job is to re-educate people that the use of Essential Oils, for example, can significantly transform their overall health, with little to no side effects and at a significantly reduced cost", says Dr. Joy Rohrer, head of the Wellness program at Rohrer Dental Wellness Center.
For ten years, Dr. Joy Rohrer and her husband, Dr. Tom Rohrer, have been using natural, alternative ways to diagnose and treat patients. What was groundbreaking then, it is becoming the norm nowadays. The internet and the easy access to information is making people become more aware of the different choices they have to better their health.
Dr. Tom Rohrer can attest to that shift in paradigms: "Ten years ago, 1 in 20 patients fell under the category of health-conscious individuals, wanting to explore natural and safe ways to be healthy. Now, it is closer to 1 in 4 patients. I'm certain that that number will continue to increase. Small, simple, everyday changes in the right direction will change your life"
Drs. Tom and Joy Rohrer are not just preaching, they are also doing. For years now, they have been perfecting services such as the "safe amalgam removal process" or natural relaxation therapies such as Aromatherapy using Essential Oils. But natural does not mean not current. Only by using the most modern technology and the most up-to-date diagnostic tools, you have a chance at being proactive and catching the problems early. Holistic is not just natural. It is also a synonym of comprehensive. Essential Oils can help patients to achieve optimal health in a comprehensive manner, tackling many issues at once.
Dr. Joy Rohrer will continue to do workshops and seminars throughout 2013. They will be done on a quarterly basis. Even though the use of Essential Oils will be one of the main topics of her lectures, other important issues will be addressed, such as Diet Counseling, Whole Body Detoxification, the relation of Oral health and Systemic Disease, and the like.
For more information, please go to http://www.facebook.com/drsrohrer or visit our website at http://www.drsrohrer.com
About Rohrer Cosmetic Restorative Dentistry
Established in 1987 in Delray Beach, FL by Drs. Tom and Joy Rohrer, Rohrer Dental Wellness Center combines modern dental care with alternative therapy in the framework of whole body health. From veneers and porcelain crowns, to safe amalgam removal and Compatibility Testing, Rohrer Dentistry offers patients only the finest materials and biocompatible products. Where applicable, the practice also uses complimentary treatments such as diet counseling, deep relaxation, aromatherapy and natural detoxification. This integrated and holistic approach to dental care is performed in a comfortable, spa-like setting.