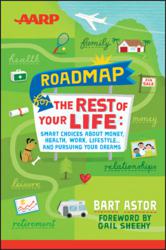 Hoboken, NJ (PRWEB) May 08, 2013
Goal-setting starts when we are young. Fantastic childhood dreams about what we want to be when we grow up transition into more serious decisions about college majors, career choices, family, and more. But the second half of life can bring a host of new challenges. Perhaps we're changing careers, pursuing hobbies or interests, or caring for both our children and our parents. At the same time, we need to focus on maintaining our health and managing our finances to support ourselves for the long term. These are realities not everyone is prepared for.
In this new book from AARP, Roadmap for the Rest of Your Life: Smart Choices About Money, Health, Work, Lifestyle…and Pursuing Your Dreams (Wiley; 978-1-118-40112-5; May 2013; $18.95), author Bart Astor offers a comprehensive guide for creating and realizing your goals, making lifestyle decisions, growing your nest egg, and taking advantage of the new opportunities at age 50+.
This book is not about retirement but about the question, "What are our goals for this stage in our lives?" Readers can use this book to help focus on their goals and expectations and to take care of the legal, insurance, and other necessities that could become barriers to achieving their goals.
Astor, a recognized expert in life transitions and eldercare and the author of 13 books, provides readers with:

Ways to create age- and health-specific goals
A "Level of Activity" scale to help guide lifestyle decisions
Stories of real people whose insights can help steer readers toward their goals
Practical solutions for getting their business and legal affairs in order
What to know about Medicare, health insurance, and long-term care
Financial strategies and ready-to-use worksheets to help plan for retirement
Suggestions for staying fit and healthy
A step-by-step guide to completing your bucket list
A comprehensive list of resources with websites
Astor's Roadmap for the Rest of Your Life is an indispensable guide for anyone looking to navigate their second adulthood and make it even better than their first.
About the Author:
Bart Astor is the author of 13 books, numerous articles, testimony, grant proposals, training and technical manuals, white papers, and website content on a variety of subjects including financial literacy, eldercare, student financial aid, college admission, insurance, buying a home, and corporate social responsibility. He was also the publisher and founder of the College Planning Quarterly.