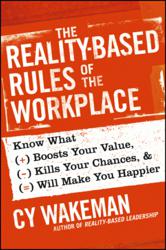 San Francisco, CA (PRWEB) May 01, 2013
While the American economy sputters along, the workforce is suffering a crisis of its own, with consecutive years of alarmingly high levels of job dissatisfaction. Gallup estimates that 69% of employees are disengaged or actively disengaged, and a recent survey by Right Management revealed that 86% of Americans are so dissatisfied that they plan to look for a new job in 2013. Employees feel overworked, underappreciated, and fed up.
To explain this widespread unhappiness, many have pointed fingers at the lingering cutbacks of the recession and the ill effects of our technology-fueled, always-on work culture. But according to mental health counselor turned workplace consultant Cy Wakeman, neither are to blame.
In her new book The Reality-Based Rules of the Workplace: (Jossey-Bass; April 30, 2013), Wakeman delivers a tough reality-check: an individual is are source of their own misery, and only they have the power to end it. Grounded in the principles of psychology and her experiences as a mental health counselor, Wakeman argues that a person's unhappiness at work has nothing to do with their circumstances. Rather, it's a direct result of the drama they create in reaction to those circumstances.
After a successful career as a counselor, Cy went on to spend the next 18 years as a speaker, consultant, and trainer, working with over 200 companies each year to reduce drama in the workplace. Drawing on extensive on-the-ground surveys, research, and one-on-one sessions, The Reality-Based Rules of the Workplace reveals that the happiest and most successful people don't have better opportunities, better bosses, more empowering cultures, or the most extensive benefits; they simply refuse to be victims of their circumstances. Happy workers have high levels of personal accountability, defined as the core belief that you make an impact on your circumstances and can choose your own course. Wakeman calls them "reality-based" workers, and the key difference is that they accept their challenges as the conditions under which they must succeed – and spend less energy complaining about them. And these employees are not only happier at work, but they are drastically more valuable to their organization, as well.
"I conducted a study with more than 50,000 employees, and discovered that the people who were highly accountable were both happier and more successful than others, regardless of their circumstances," says Wakeman. "The success factor is a no-brainer. When you are a resilient, personally accountable employee who freely gives your talent and is willing to support the organizational direction without drama, you are a great deal to your boss, and you are the one that companies are looking to hire."
Wakeman acknowledges that the challenges workers face today are real, and they are tough. But rather than seeing those challenges as the things that must change in order to succeed, Wakeman equips readers with the knowledge they need to succeed in spite of them – and become happy, high-performing, reality-based employees who actually look forward to going to work. Chock-full with original research, practical assessments and tools, and real-life stories of people who have followed Wakeman's advice, The Reality-Based Rules of the Workplace lays out the five realities that people must embrace in order to become happy and bulletproof at work (see attached). Along the way, Wakeman also helps readers calculate their true value at work, ditch the (often subconscious) drama, and kick the self-sabotaging behaviors that are making them miserable and holding them back from success.
"For too many people, work is a huge source of stress and unhappiness," says Wakeman. "I want to help them see that it doesn't have to be that way. Work isn't something to dread or survive. It can be a place where you live your passions and truly make a difference. Your circumstances are what they are, but your reaction to them is up to you. In other words, your suffering is optional."
With Wakeman's signature tough-love approach, The Reality-Based Rules of the Workplace offers an indispensable guide to achieving career happiness and success by empowering readers to ditch the drama, take back control of their happiness, and turn the job they have into the job they've always wanted.