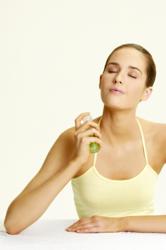 Miami, FL (PRWEB) May 02, 2013
Recently, many sources, including Liverpool Student Media have been shouting from the rooftops that old makeup may be harboring acne causing bacteria. Probiotic Action, having studied the effects of makeup on the skin, explains how old makeup is causing acne breakouts in many women.
For many women, makeup is a part of their daily routine. After years of makeup use many women are stubborn in throwing away a certain color, or makeup palette they have come to love. Sadly, those women are experiencing more breakouts than others reports say.
Probiotic Action, known for their adult acne treatment is called the best acne treatment by male and female users, and has explored the connection between old makeup and acne breakouts. Fernando Perez, a representative from Probiotic Action explains how the P.acnes acne causing bacteria may be finding it's way onto the skin's surface through makeup:
"Many women use the same makeup brushes, and foundations every day without the thought of how bacteria and dirt are transferred from their hands, or brush to their skin. Each time skin an item comes in contact with p.acnes bacteria, it can live on/ or in that item for months, like any other germ*," says Perez.
Most do not realize that acne is caused by bacteria in the skin, along with dirt and oil. For women who use makeup to cover up acne symptoms, they are only making their case worse.
The article from LSMedia shared additional insight on how long makeup should be used in order to prevent the spread of acne:
"Foundation & Concealer – 6 to 12 months
Mascara & Liquid Eye Liner – 3 to 6 months
Eye/Lip Pencils – 12 to 18 months
Powders (face, eye shadow, blusher) – 18 to 24 months
Lipstick and Lip Gloss – 18 months
Cream Make-Up Products – 12 to 18 months
For more information on how makeup causes acne, visit the LSMedia article. For additional resources on acne treatment visit probioticaction.com
Probiotic Action is an advanced acne treatment that uses Probiotics for acne containing the "good bacteria" that is naturally found on healthy human skin. By using probiotics, Probiotic Action is an effective treatment that restores the normal bacteria content on skin. Probiotic Action will successfully clear skin when used as an adult acne treatment while protecting skin against bad bacteria, free radicals, and pollutants*.
*These statements have not been evaluated by the Food and Drug Administration. Probiotic Action is not intended to diagnose, treat, cure or prevent any disease.