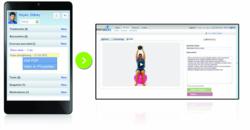 We're thrilled to offer our customers access to Physiotec's best-in-class library of targeted exercise videos and documentation.

- Donald Olds
Montreal, Canada (PRWEB) May 15, 2013
Physiotec, a forerunner in the development of health and fitness exercise software, announced today that they have partnered with Presagia, the leading developer of web-based and mobile Athlete Electronic Health Record (EHR) software solutions. The integration of the Presagia Sports Athlete EHR with Physiotec's software will enable sports medicine professionals to better engage athletes with interactive exercise and rehabilitation programs.
Physiotec specializes in interactive exercise programs for rehab therapy and fitness. Its software solution includes over 5,000 unique exercises comprehensively presented in video, photo and written formats, making it an invaluable resource for athletes and medical professionals during treatment and rehab, as well as for strength and conditioning.
Presagia Sports is a secure web-based and mobile-accessible Athlete EHR and concussion assessment system that centralizes athlete health data including injuries and illnesses, treatments, surgeries, and medications. It also provides communication tools to connect the medical team in support of collaborative healthcare.
"We're delighted to be working in partnership with Presagia. This collaboration stemmed from both parties' willingness to provide their clients with a state-of-the-art revolutionary yet simple integrated solution," states Pierre Labonte, President of Physiotec. "Through its shared vision with Presagia, Physiotec reinforces the vital role that it plays in today's fitness, wellness, and sports performance industries."
Through the integration, the Presagia Sports mobile app will include a section showing all of the Physiotec exercise programs prescribed for an athlete. Users can then view the details of any exercise program and launch Physiotec to modify the program or watch the videos.
"Physiotec's and Presagia Sports' web-based offerings complement each other perfectly; users will now be able to navigate from one system to the other with a single sign in and prescribe specific exercise programs quickly and easily without any duplication of data entry. We're thrilled to offer our customers access to Physiotec's best-in-class library of targeted exercise videos and documentation," declares Donald Olds, President and CEO of Presagia.
Athletes will also be able to take advantage of this powerful functionality, directly on their mobile phones. They will be able to see all of their exercise programs, current and historical, and watch how-to videos. This will bring a new level of interactive engagement by providing athletes with an invaluable resource to help them follow their treatment plans, resulting in faster, healthier recoveries.
For more information about Physiotec, visit http://www.physiotec.ca.
About Physiotec
Since 1993, Physiotec has been a forerunner in the development of health and fitness exercise software in the fields of physiotherapy, occupational therapy, manual therapy, sports & fitness. Physiotec offers interactive solutions with thousands of different exercises devised for physical therapists, athletic therapists, kinesiologists, chiropractors and personal trainers. http://www.physiotec.ca
About Presagia
Presagia provides secure web-based health management software solutions used by athletics organizations worldwide. Presagia Sports is a multi-sport Athlete Electronic Health Record (EHR) and injury management system that centralizes information needed by athletic trainers, physicians, coaches and physiotherapists while streamlining data entry. It also includes real-time reporting and collaboration tools. Presagia customers include the World Anti-Doping Agency, the U.S. Ski and Snowboard Association, the English Institute of Sport and the Irish Sport Council. http://www.presagiasports.com