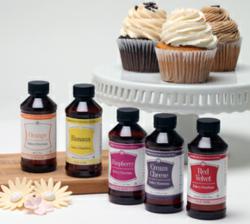 Join LorAnn Oils on Facebook and Pinterest to enter the 2013 'Spring Flavor Fling' recipe & photo contest!
Lansing, MI (PRWEB) May 17, 2013
To celebrate the launch of the company's five new baking emulsions, LorAnn Oils today announced its 2013 'Spring Flavor Fling' recipe and photo contest where baking enthusiasts can submit their most creative recipes using any LorAnn emulsion or flavor for a chance to win great prizes!
The contest kicks off this week, so head over to the LorAnn Oils Facebook or Pinterest pages for more info or to enter.
With the five new emulsion additions--Banana, Cream Cheese, Pumpkin Spice, Raspberry and Peppermint--LorAnn now offers 16 flavors including their best-selling Red Velvet Emulsion.
When it comes to flavoring, professional bakers almost exclusively use baking emulsions baking emulsions over extracts.
Why?
They simply yield better results.
Baking emulsions are a water-based alternative to alcohol-based flavor extracts. These flavorings are formulated to be the same strength as an 'extract' (1 teaspoon emulsion = 1 teaspoon extract), but instead of the flavor being diluted in alcohol, it is suspended in a water base, explained John Grettenberger, CEO of LorAnn Oils, Inc.
As water is a more neutral carrier than alcohol, Grettenberger says it imparts no added flavor and does not evaporate as rapidly when exposed to heat. This means much better and more potent flavor and smell as emulsions don't "bake-out" as easily as traditional alcohol-based extracts.
Baking Emulsions are ideal for flavoring all baked goods including cakes, cookies, muffins, frostings and glazes. They can be used to flavor 'from scratch' recipes or to add to a favorite boxed mix for an added level of flavor.
"Many people simply aren't aware of the difference between extracts and emulsions, so we're here to educate," Grettenberger said. "Those who know the difference have seen what a big difference emulsions can make on overall taste and flavor of baked goods."
For more helpful flavoring tips, tricks and recipes and to browse LorAnn's extensive stock of flavorings including Baking Emulsions, check out our online store at LorAnnOils.com and join our Pinterest community at http://pinterest.com/lorannoils/.
About LorAnn Oils:
Family-owned and operated since 1962, LorAnn Oils is a wholesaler and retailer of high-quality, gourmet flavorings, essential oils and fragrances catering to both the home consumer and small companies including bakeries, cake-pop businesses, cupcake businesses, candy makers, popcorn shops and more.
Our products are sold in the United States and throughout the world. LorAnn products can be found in grocery stores, gourmet retailers, pharmacies, craft stores, and cake & candy supply shops.