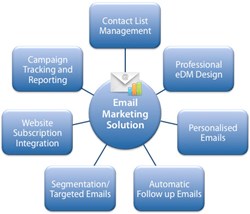 Email Marketing - Industry Leaders Since 2002
Tampa, FL (PRWEB) May 02, 2013
This no cost version of its flagship email marketing and social marketing tool makes it easy for individuals, community organizations and small businesses without a large budget to easily stay in touch with their subscribers and fans via email, Facebook and Twitter.
EmailOutbound Free Edition enables anyone to easily manage a contact database, select a professionally designed template, send out an email and social network message, and track the opens, clicks and social views.
"Today, we are announcing a major new product launch for EmailOutbound designed to make email marketing and social marketing available to everyone in both their professional and personal lives," said Joe Chives, Mgr, EmailOutbound. "We want to provide easy access to email marketing and social marketing tools backed by world-class customer service."
Be one of the first 500 - Sign Up Now!
About EmailOutbound Free Edition
EmailOutbounds' proven email marketing solution empowers businesses to engage, educate and retain customers, targeted prospects and website visitors. Now individuals or small organizations with subscriber lists of 500 or less can have email marketing, social marketing, event marketing and surveying for free.
EmailOutbound Free Edition includes:

Email creation, sending and tracking capabilities for up to 500 subscribers
and 26 designer templates for effective, eye-catching messages
quickly and easily.
Compatibility with iPhone and Android mobile apps allows users to manage contacts, access and send messages, and view detailed tracking reports, all in real time
Built-in survey tool enables users to easily create questions and choose a response type, such as text box, radio button, drop-down menu or selector
According to a recently released 2011 Outlook report from Borrell Associates (ClickZ, March 11, 2011), the SMB market accounted for more than 70 percent of all online advertising expenditures including email, search and run-of-site display last year. While individual SMBs on average spent less than $12,000 on all advertising in 2010 – about $2,300 of which went online – they represented 95 percent of U.S. business locations.
About EmailOutbound
With more than 40,000 customers, EmailOutbound provides email marketing and social media tools for small to mid-sized businesses and non-profits. EmailOutbounds's award-winning solutions allow for easy creation of email newsletters, surveys and other online marketing programs. EmailOutbound founded in 2007 offers a suite of custom and managed services designed for mid-sized organizations, is available at http://www.EmailOutbound.com.
Media Inquires:
Scott Healms, EmailOutbound, info(at)email-list.com, 877-403-6245