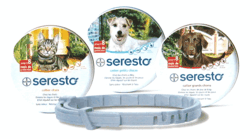 (PRWEB) May 01, 2013
Warm spring weather means flea and tick populations are booming. Spring is also the time when pet owners begin wondering about the best way to help their cats and dogs fight these pests. This spring a brand new, revolutionary flea and tick collar, Seresto, from Bayer Animal Health, offers pet owners a new line of defense against these nasty parasites.
Seresto offers double protection. First, unlike old style collars, Seresto offers eight months of protection through a slow-release process designed to safely protect pets throughout the entire flea and tick season. No messy sprays or powders. Just one collar and pets are safe from pests all spring and summer. Old style collars offer just four months protection, costing pet owners more money over the long-term. Second, Seresto's light-reflective properties help protect pets from vehicles at night, helping to keep them safe and sound.
The collar is available in three sizes: one for cats, and two options to fit most dogs. Seresto collars are available now from nation's most affordable online pet pharmacy—FetchRx.com. And if you order now, the manufacturer is offering a $20.00 mail-in rebate off the purchase price.
The collar is hassle free, odorless, tasteless and completely safe for pets, and the no-strangle, quick release buckle takes away all worries about dogs getting tangled or caught when unattended.
So why not take all the guess work out of flea and tick prevention this season? Go online to FetchRx.com and place an order today. And don't forget, order now and receive a manufacturer's 20.00 mail-in rebate.
FetchRx.com is an online Pet Pharmacy providing customers with the exact same pet medications as provided by veterinarians for a discounted price. The staff at FetchRx.com cares deeply about pet needs as they also have pets themselves. They promise to provide the highest-quality products available at an affordable price and match any competitor's prices.
Visit FetchRx.com or call (888) 732-3979 for more information.