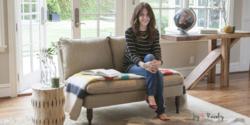 Joy & Revelry's platform empowers elite, established style influencers called Style Mavens to create online shops.
San Francisco, California (PRWEB) May 07, 2013
Joy & Revelry (http://www.joyandrevelry.com), a social commerce platform that enables style influencers to introduce their audiences to unique products based on their signature design perspectives, announced it has officially launched out of beta.
Joy & Revelry's platform empowers elite, established style influencers called Style Mavens to create online shops. The Style Mavens are recognized lifestyle bloggers, top pinners on Pinterest and online home décor magazines. By partnering with Style Mavens, Joy & Revelry is revolutionizing how social media stars can monetize their influence.
Fundamentally different from the plethora of home décor flash sites that focus on driving daily deals via discounts, Joy & Revelry is a destination for consumers seeking to be inspired by a diversity of style perspectives. Unlike many home décor e-commerce companies, Joy & Revelry has forged relationships with many of today's top " to the trade only" vendors, and established partnerships with vendors who previously only sold to brick and mortar stores.
"Joy & Revelry is a platform that houses many different shops, each with its unique and individual point of view, style, and merchandise. Instead of focusing on discounts to drive consumer behavior, our visitors come to Joy & Revelry for professional design perspectives, curated content and unique products," says Jennifer Wu, Co-Founder of Joy & Revelry.
The Joy & Revelry team has leveraged its deep industry contacts to bring new, interesting and previously unseen products to the consumer marketplace. The company plays to its core strengths of backend retail logistics by centralizing sourcing, inventory management and shipping, and allowing Style Mavens to focus on crafting their retail environments.
Joy & Revelry will be providing end-to-end service to its clients by also providing affordable online design services. Consumers will be able to connect directly with Style Mavens for personal consultations and personalized e-room designs.
"Our strategy is simple," states Gregory Lok, CEO and Co-Founder "We provide a vehicle for independent brands to align their products with the unique visions and aesthetics of our Style Mavens. In fostering these types of partnerships we are creating a business model that we saw lacking in the landscape."
About Joy & Revelry's Team
Joy & Revelry is founded by home décor ecommerce veterans Gregory Lok, Jennifer Wu, Peter Pchelin, and Ivana Ng, who have gained their experience at Williams-Sonoma, Home Depot, Home Decorators Collection, and Mercantila.
The inaugural Style Mavens include interior designer Bryn Dunn, stylist and lifestyle expert Courtney Lake, top-design bloggers Paloma Contreras and Reichel Broussard, and mother & lifestyle blogger Chelsea Horsley. In addition, Joy & Revelry has joined forces with home décor and lifestyle publication Rue Magazine to present its first branded retail experience.
Joy & Revelry is financially backed by an accomplished group of angel investors: Rick Thompson (Signia Venture Partners, Playdom, Adify, Flycast), Ed Cluss (Signia Venture Partners, NEA, Cisco, Infogear), Mark Stevens (S-Cubed Capital, Sequoia Capital), Brad Koenig (Foody Direct, Goldman Sachs), Shawn Bercusson (Prescreen, Groupon) MJ Elmore (Institutional Venture Partners), Russ Fradin (Dynamic Signal, Social Shield, Adify), Saeed Amidi (Plug and Play Center), and Jim McLean (Crosslink Capital).