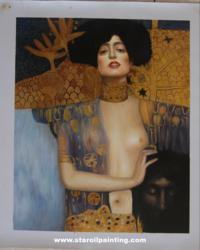 One of the most common themes Klimt used was that of the dominant woman, the femme fatale.
New York, NY (PRWEB) May 02, 2013
Mighty Mack announces updates to one of its favorite apps, Paintings: Gustav Klimt.
Gustav Klimt (July 14, 1862 – February 6, 1918) was an Austrian Symbolist painter and one of the most prominent members of the Vienna Secession. His major works include paintings, murals, sketches, and other art objects.
Klimt's primary subject was the female body, and his work is often distinguished by elegant gold or colored decoration, spirals and swirls. This can be seen in Judith I (1901), and in The Kiss (1907–1908), and especially in Danaë (1907). One of the most common themes Klimt used was that of the dominant woman, the femme fatale.
Art historians note an eclectic range of influences contributing to Klimt's distinct style, including Egyptian, Minoan, Classical Greek, and Byzantine inspirations. Klimt was also inspired by the engravings of Albrecht Dürer, late medieval European painting, and Japanese Rimpa school. His mature works are characterized by a rejection of earlier naturalistic styles, such as The Glasgow School, from which he was heavily influenced, and make use of symbols or symbolic elements to convey psychological ideas and emphasize the "freedom" of art from traditional culture.
He was keenly interested in exploring Freudian issues surrounding psychoanalysis in his works. Freudian issues gave his work a dark intricacy that would be highly influential for future artists.
The full version of Mighty Mack's Paintings: Gustav Klimt App features over 100 paintings by the great master Gustav Klimt.
This App is available for iPod Touch, iPhone and iPad. Optimized for iOS6, retina display and iPhone 5. It allows the users to share images via email, Twitter and Facebook, or save them to camera roll (with no watermarks). Share the artist bio via email. Select favorites. View the images one by one, or enjoy a slideshow.
Enjoy this fantastic visual gallery, share the images with friends, and learn about the artist's life.
Updates include:

Optimized for iOS 6.1.3
Updated User Interface
New Splash Page
App Requirements:

iPad, iPod Touch or iPhone, with iOS 5.0 or higher
Wifi connection to download the app
An internet connection for sharing images via email, Twitter or FB (no internet connection required to view the App content)
Click here to see the complete collection of Aramis Artists Apps released by Mighty Mack.
--
Mighty Mack is a leading publisher of distinguished digital products for the consumer and professional markets. The Company leverages newly available digital tools to create, design, and share new ways of consuming information and experiencing the world around us. The company has released a variety of best-of-class Apps, including Advertising Today, Morpheus Dreams, Where2Boss?, Agora Briefcase, Film Today, among many others.
To learn more about Mighty Mack please visit their website at http://www.mightymack.com or email them to press(at)mightymack(dot)com.