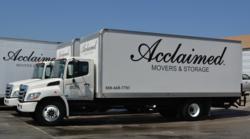 LA Habra Movers
La Habra< California (PRWEB) May 01, 2013
California's first choice for all luxury residential and commercial relocations, Acclaimed La Habra Movers, has just re-pledged its support for the local Battered Women's Shelter. In the past, Acclaimed has assisted with the relocation of Shelter facilities. Now, the company is continuing its support by providing regular donations to the organization. In addition to upping their philanthropic efforts, Acclaimed has also expanded its already massive fleet of trucks to increase the efficiency and availability of their moving services. Acclaimed La Habra Movers is a full-service, fully comprehensive, luxury moving company.
For ten years, Acclaimed La Habra Movers has helped homes and businesses with moves across the city, across the country, and across the world. The company has experience with houses, offices, apartments, warehouses, condos, retail facilities, restaurants, and more. Each of their La Habra movers is a uniformed, seasoned professional who goes through regular training to ensure that they can properly wrap, pack, and then move any item. Acclaimed's packing service is perfect for the protection of any belongings, and includes the disassembly and reassembly of large items, as well as, the creation of custom moving crates for all flat-screen TVs, artwork, electronics, antiques, and other fragile or valuable items. All transportation is conducted by the La Habra movers' cutting-edge trucks, which come equipped with GPS for efficient navigation. When storage is necessary, Acclaimed maintains space for long-term and short-term storage periods in their massive, state-of-the-art, climate-controlled storage facility.
Acclaimed La Habra Movers is committed to providing premium quality moving services at economical rates, which allows the company to make a lifelong customer out of each person that they help. As a result, Acclaimed has become synonymous with affordability, efficiency, and reliability in the moving industry. Their continued support for the Battered Women's Shelter is just one more way that the company is doing its part for the community. When it's time to move a home or business, it's time to get a free, no-obligation quote from Acclaimed La Habra Movers.