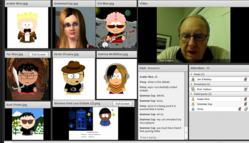 The virtual school seeks students for its summer debate program.
(PRWEB) May 02, 2013
iGifted School, a 501C3 organization is pleased to announce its free summer virtual debate program starting June 15 and running until August 10th. Students will debate virtually using avatars and compete in teams.
Before actual live debates begin, students watch a series of short podcasts to learn how to debate properly. Dr. Bill Colburn, a former debate coach at The University of Michigan, will facilitate students in a series of live conference calls. Students who miss a session can catch up as the calls will be archived. The calls are archived for students who miss a session.
According to Dr. Colburn, "Many of my students will credit debate as their most important extracurricular activity in preparing themselves for the rigor of a top college."
Family vacation? Not a problem. Students only need an Internet connection due to the virtual nature of iGifted School's innovative process. Additionally, students can learn to debate on their own time as the early phases of the debate program are self-paced.
Two current student participants are "loving it" according to Avatar Rosalia and Avatar Pac Man, "We improve our critical thinking skills and the debate competition helps with our public speaking."
For additional information please contact Executive Director Jim O'Reilly at jim(at)iGiftedSchool(dot)org and interested students and their parents may visit the website at http://www.iGiftedSchool.org.
About iGifted School
iGifted School's mission is to provide exceptional supplemental educational experiences to high potential students. As such we have innovated several unique online offerings the first of which is the Virtual Debate program which combines the use of state-of-the-art collaboration software with asynchronous podcasts, interactive chat and live thought leader facilitated online classes. Other exciting educational offerings are in the planning stages.