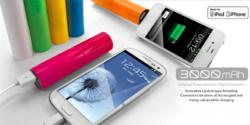 Australia (PRWEB UK) 7 May 2013
Harvey Norman has taken on the new MFI approved Plox energy stick for iPhone & Android ranging them nation wide. The product class that is already prevalent across Asia and USA are now making waves in Australia. With the ever increasing demand for power by smart phone and table technology the need has never been stronger & Harvey Norman are leading the charge.
The Plox energy stick is a 3000mAh unit is a high quality design aimed primarily at women. With its stylish 'lipstick' shape and bright colours. The unit also comes equip with a 'shake' to active LED lighting systems for lighting up a handbag or dimly lit area. Unlike competitor products the Plox energy stick does not require wire to charge an iPhone, instead using a revolutionary 'twist to expose' system that reveals the 30 pin connection from within the unit itself.
Harvey Norman have taken an decisive first step into the portable battery range, a market that looks set to grow extremely quickly. The portable battery marketing reached $423 billion in 2010 and is predicted to reach more than $611 billion by 2016, growing at a compound annual growth rate (CAGR) of 5% according to BCC Research.
In international markets the ever increasing power usage of smart phones and electronic devices has seen consumers take-up the practice of carrying portable chargers. In Singapore and surrounding countries virtually every retailers and kiosk stocks at least one such line, such is the demand.
In the emerging Australian market, Plox have seen early success with their 3000mAh unit and are about to release the new 4500mAh with built in TF card reader. Plox are sending strong signs to the market that they are a premium brand making waves in an emerging energy market.