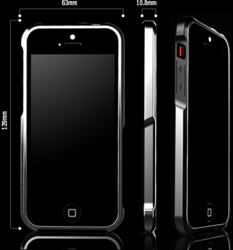 The ultimate case-less feel

Miami, FL (PRWEB) May 09, 2013
The i5 Slimline is designed to give a case-less feel for your iPhone and its use of strong and robust aluminum inlays is what helps it deliver durable fall protection. Due to the minimalistic layout of aluminum and TPU backing, the Casemachine i5 Slimline for iPhone 5 weighs a mere 12 grams. Style is what the company hopes to improvise on, and without adding bulky corners and weird shapes, a total width of just 10.8 mm does the job perfectly for the Slimline to appeal to a wide range of audience. From corporate professionals, to celebrities, tech geeks and regular users, the Slimline is a compact choice for all to give their phones ostentatious looks and durable protection.
Casemachine i5 Slimline Flex TPU – Now officially released
Casemachine i5 Slimline for iPhone 5 received quite a welcome in the aluminum-TPU hybrid market before it was even released. The company put the Slimline Flex TPU up for grabs on their official website as a special pre-order deal earlier in March, where it was purchased by quite a healthy number of iPhone users. Slimline was released earlier in April, and is now officially available in more than 16 different colors ranging from the entrancing black and lush chrome combination to something more of a niche like white and blue. The case is available for purchase from more than 7 platinum retailers worldwide.
"We at Casemachine work day and night in teams to share progressive and thought-provoking ideas just to bring a premium user experience to every hand which holds a smartphone. The Slimline is another step forward…" the President of Casemachine, LLC said during a short discourse. "If you take a look at the veneered carbon fiber backplate which comes with the Slimline, you will notice it's hyperfine – thinner than an average screen protector. We don't just make aluminum-TPU hybrids; we ascertain they are easy to get by. This is why it is a slip-on case with screw-less assembly," he added.
And not just that, the Casemachine i5 Slimline Flex Case for iPhone 5 also offers great customizability in terms of its looks. Casemachine has also designed optional dimensional polycarbonate backplates which are available in two colors; Matte Black & Matte Silver. You can easily remove the standard carbon fiber plate off and snap the dimensional backplate on whenever you see fit.
Casemachine & the Future of Carbon Fiber
Casemachine, LLC continues to produce something top-of-the-line and unusual. The Casemachine i5 Slimline Flex Case for iPhone 5 was made after hours of dedicated design engineering, and the company continues to use carbon fiber as one of most appealing characteristics of its cases. With the help of CNC machining, Casemachine was able to bring about thinner twin weave patterns, and was able to give the carbon fiber a glossy look by laminating the Racecar backplate in 3M adhesive.
The company is working with its designers to hone creative usage of carbon fiber along with aluminum and thermoplastic polyurethane to provide designer casings which look great in the hand.
About Casemachine
Casemachine, LLC is a corporate sector smartphone accessories producer specializing in hybrid phone cases to deliver an elevated user experience to smartphone owners. Starting its operations in 2010 from Florida, the company is now one of the biggest aluminum-TPU phone case producers in all of USA. The cases are exclusively available for sale through platinum distributors only, and Casemachine has received widespread recognition for its dedication to provide smartphone users a nonesuch feel to the touch.
Casemachine is all about taking inspiration from the best. Take for example, the upcoming Casemachine M charger, which contains the same design elements as found on BMW's M series cars. The tradition to coordinate outstanding performance along with spellbinding looks is what Casemachine's corporate culture revolves around.